Created by South Korean designer Hano
, from
Art of Living website
, this is
Charlie Brown, from Peanuts,
in a
perfect paper toy version.
-
You will find the model in two formats
:
PDF and PDO (Pepakura)
, so you can
print the model with the PDF format and use the PDO format as guide,
because it
can be visualized in 3D.
If you don`t have
Pepakura Viewer Free Version
yet, the
link to download
is at the
end of this post.
-
Take a look at the third photo of this post
to learn
how to download this cool paper toy.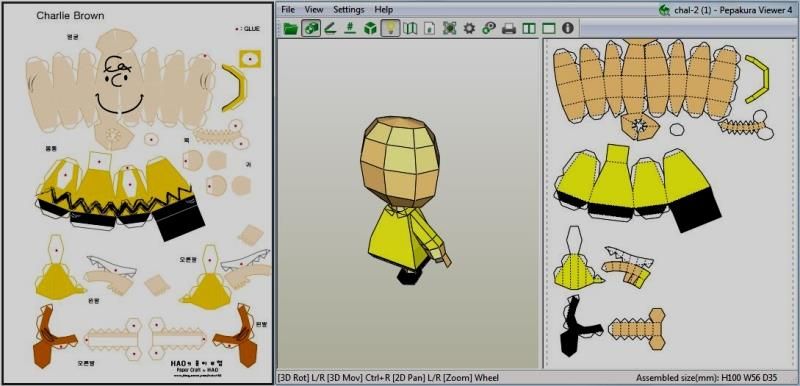 Criado pelo designer sul-coreano Hano
, do site
Art of Living
, este é o
Charlie Brown, de Peanuts
, em uma
perfeita versão paper toy.
-
Você encontrará o modelo em dois formatos: PDF e PDO (Pepakura),
então você pode usar o
PDF para imprimir as peças e o PDO como guia de montagem
, já que com ele você pode
visualizar o modelo em 3D.
Se você não tem o programa
Pepakura Viewer Versão Gratuíta,
o
link para baixá-lo
se encontra no
final deste post.
-
Dê uma olhada na imagem abaixo
para
aprender como baixar este paper toy bem legal.
Link to download the model:
Peanuts.Charlie.Brown.Character.Paper.Toy.by.Hano.Art.Of.Living
Link to Pepakura Viewer Free Version:
Pepakura.Viewer.Free.Version.Official.Page
More Comics Paper Toys related posts:
Bugs Bunny Paper Model With 70 Cm Tall - by Darcrash
Sandman - Neil Gaiman's Death Paper Doll - by Fanzineria
The Adventures of Tintin - The Crab With The Golden Claws - The Crab Can Paper Model - by Chris
Mad Magazine - Alfred E. Newman Paper Toy - by 7eater`s Cubees