This Toyota Land Cruiser Ambulance
is used by the
humanitarian organisation Medecins Sans Frontieres
, which
delivers emergency aid in more than 60 countries across the globe
. Also known as
Doctors Without Borders or simply MSF
,
Medecins San Frontieres
has used the
70-Series Land Cruiser
as part of its operations
ever since it was introduced in the 1980s
. It currently has
over 700 on its fleet.
In the
end of this post you will find the link to download this model
and also
the link to Medecins Sans Frontieres official page.
Take a look at the page and,
if you can, make a donation.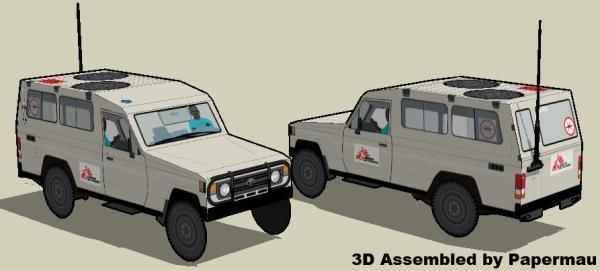 Este Toyota Land Cruiser versão Ambulância
é usado pela
organização humanitária Médicos Sem Fronteiras
, que
auxilia necessitados em mais de 60 países ao redor do mundo.
Os
MSF
usam o
Land Cruiser 70-Series
como parte de suas operações
desde que ele foi lançado, nos anos 1980
. Atualmente sua frota tem
mais de 700 desses veículos
. no
final deste post
, além do
link para baixar este modelo
, você também encontra
o link para a página oficial dos Médicos Sem Fronteiras
. Faça uma visita e,
se puder, faça uma doação.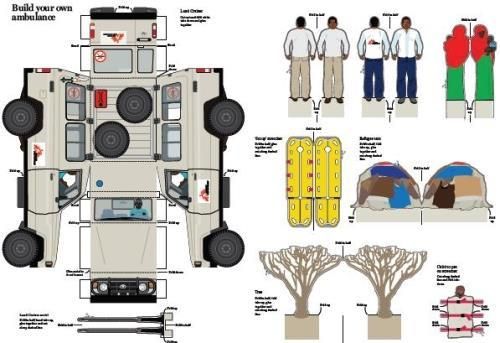 Link to MSF main page:
Medecins.Sans.Frontieres.Humanitarian.Organisation.Official.Page
Link to download the model:
Medecins.Sans.Frontieres.Land.Cruiser.Ambulance.Paper.Model.by.Toyota.UK
More Paper Models of Ambulances related posts:
French Samu Ambulance Paper Model - by Smur Addict - Ambulância Samu
1938`s Spanish Civil War ambulance - by Toto - Ambulância Da Guerra Civil Espanhola
Ambulance Kombi Paper Model - by Papermau - Download Now!
Japanese Emergency Vehicles Paper Models - by City Of Ichihara