Created by Indonesian designer Guruh Memory
, from
Kebun Papercraft
website, this is the
Space Ship 1, owned by Goku
, in
Dragon Ball Z anime and mangá series
. To
view and print this model
you will need
Pepakura Viewer Free Version
(
link at the end of this post
).

Criada pelo designer indonésio Guruh Memory,
do site
Kebun Papercraft
, esta é a
Nave Espacial 1, pilotada por Goku
, na
série de animes e mangás Dragon Ball Z.
Para
visualizar e imprimir este modelo
você precisará do
Pepakura Viewer Versão Gratuíta
(
link no final deste post
).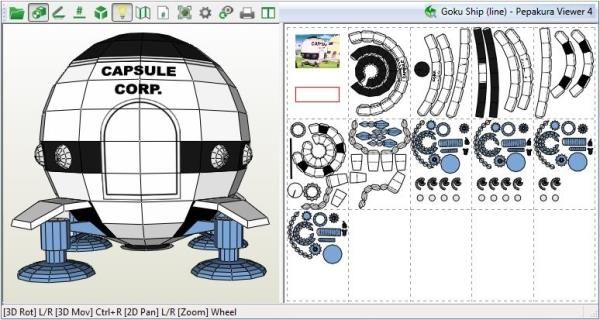 Link to download the model:
Dragon.Ball.Z.Goku.Space.Ship.1.Paper.Model.by.Kebun.Papercraft
Link to Pepakura Viewer Free Version:
Pepakura.Viewer.Free.Version.Official.Page
More Spaceship and UFO Paper Models related posts:
A Simple U.F.O Paper Model - by Papermau - Download Now!
U.F.O. In A Carpark - by Gary Pilsworth - O.V.N.I. Estacionado
Federation UFO Paper Model - by MTK`s Card Craft
Megaman II - Dr. Wily's UFO Paper Model With Interior - by Koala Zero