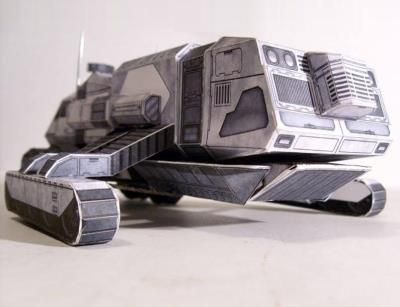 My friend, the North American designer and modeler James Catalano
created this very nice and original
paper model of a Planetary Rover Explorer
and
kindly sent me a lot of photos of his work. He said:
-
"One of my other hobbies is making board games.
I recently had an idea of
making a board game out of a classic Atari 8-bit computer game
called
Koronis Rift
. In the game,
you drive around in your rover
to
find and loot various alien hulks.
My
papercraft rover
is my
version of the rover that the player would use in the game.
The
rover would be photographed
to be turned into a
simple paper box playing piece/token.
And to be used in any
title graphics for the game.
My
Custom Planetary Rover Explorer
was created by
"kit bashing" 3 different papercraft models
. I
don't have any instructions for this model,
as it was
put together on the fly.
The
many pictures I included
may help someone
make this and see where the various parts go.
The
3 models that made up this Rover can be found for free at Genet Models (links at the end of this post)."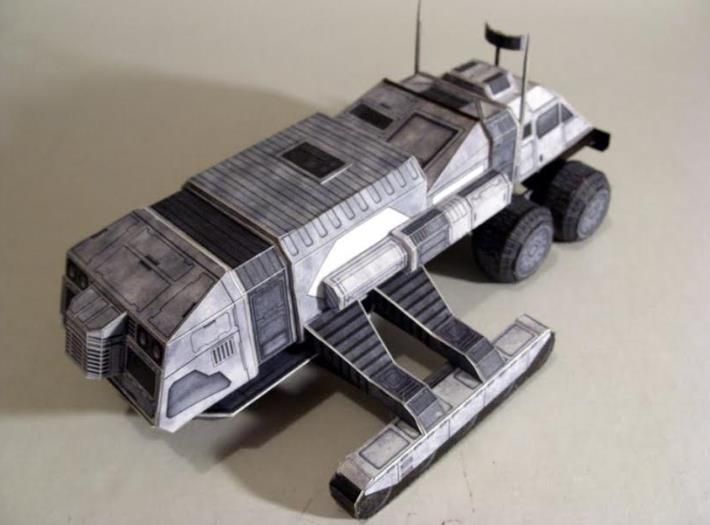 Meu amigo, o designer e modelista norte-americano James Catalano
criou este
modelo de papel super original
de um
Planetary Rover Explorer
e gentilmente
enviou-me um monte de fotos de seu trabalho. Ele disse:
-
"Um dos meus vários hobbies
é
criar jogos de tabuleiro
Recentemente, tive a idéia de fazer um
jogo de tabuleiro de um game de computador do clássico Atari 8-bit
chamado
Koronis Rift
. No jogo, você pilota um Rover para
encontrar e saquear várias arenas alienígenas
. meu
papercraft deste rover
é a versão do veículo usado no jogo. Meu
Planetary Rover Explorer personalizado
foi criado fazendo um
"kitbashing/mistura" de 3 modelos de papel diferentes
. Eu
não tenho instruções para este modelo
, já que
eu fui o montando ao acaso
, mas
as muitas fotos que eu incluí podem ajudar quem quiser tentar montar um.
os
3 modelos que compõem esta Rover
pode ser encontrados gratuitamente no
site da Genet Models (links no final deste post)."
Link 01:
Sci.Fi.Rover.LV86.Onager.Paper.Model.For.RPG.And.Wargames.by.Genet.Models
Link 02:
Sci.Fi.Rover.Sandmaster.V.Paper.Model.For.RPG.And.Wargames.by.Genet.Models
Link 03:
Sci.Fi.Trilateral.Union.Prowler.Paper.Model.For.RPG.And.Wargames.by.Genet.Models
Link to Photo Pack by J.Catalano:
Planetary.Rover.Explorer.Custom.Paper.Model.Photo.Pack.by.James.Catalano
More Sci-Fi Paper Models related posts:
V - The Visitors - Skyfighter, Transport and Tanker Paper Models - by Infochaos
Battlestar Galactica - Colonial Shuttle Paper Model - by Paper Aviation
Pan Am Space Clipper Orion - by Gary Pilsworth - via DPileggi
SteamPunk X-Wing Aircraft Paper Model - by Amoebabloke