Created by Russian designer Roman Vasilyev,
aka
Kampfflieger
, and originally posted at
Paper Models Bulgaria website
, this is the
paper model version
of the
WW2`s North American scout and dive bomber Curtiss SBC-4 Helldiver
, in
1/100 scale
. It was the
last military biplane produced by the United States Navy
. Delivered in
1937,
it
became obsolete even before World War II
and was
kept well away from combat with Axis fighters.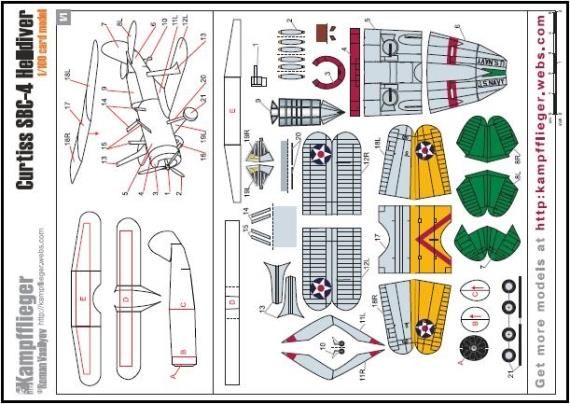 Criado pelo designer russo Roman Vasilyev
, aka
Kampfflieger
, e originalmente postado no site
Paper Models Bulgaria
, esta é a
versão em papel do avião de escolta e bombardeio norte-americano da Segunda Grande Guerra, o Curtiss SBC-4 Helldiver
, na
escala 1/100.
Ele foi o
último avião biplano militar produzido pela Marinha dos Estados Unidos
. Entregue em
1937,
tornou-se
obsoleto mesmo antes da Segunda Guerra Mundial
e foi
mantido bem longe do combate com os aviões do Eixo.
Link:
Curtiss.SBC.4.Helldiver.Aircraft.Paper.Model.by.Roman.Vasilyev
More Paper models of Aircraft and Planes related posts:
Bell X-1 Supersonic Aircraft Paper Model - by Mamecraft
WW2`s Blohm Und Voss P.212. - German Prototype Aircraft - by Eric Son
WW2`s Lavochkin La-7 Soviet Aircraft - by Stahlhart
Framework Aircraft Paper Models - by Salvador Ortega Cabrera - via Zealot Forum