Created by Czech designer Rawen
, this is the
paper model version in 1/43 scale
of the
Armoured Reconnaissance Vehicle Fennek.
The Fennek,
named after the
fennec (a species of small desert fox)
, or
LGS Fennek,
with
LGS being short for Leichter Gepanzerter Spähwagen in German (Light Armoured Reconnaissance Vehicle)
, is a
four wheeled armed reconnaissance vehicle
produced by the
German company Krauss-Maffei Wegmann and Dutch Defence Vehicle Systems
.
It was developed for both the
German Army and Royal Netherlands Army
to replace their current vehicles.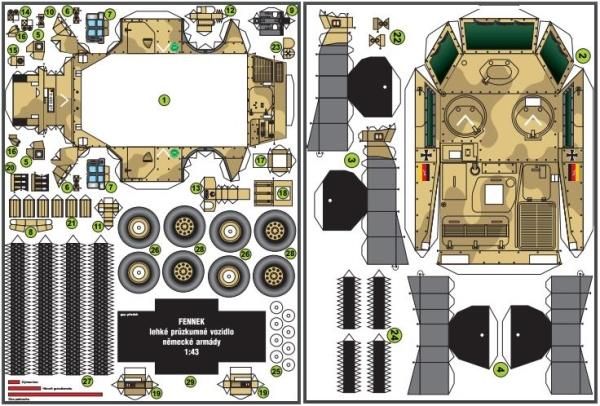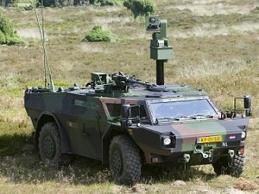 Criado pelo designer tcheco Rawen
, esta é a
versão em papel na escala 1/43 do Veículo Blindado de Reconhecimento Fennek
.
Batizado em alusão ao
Fêneco, uma pequena e ágil raposa do deserto,
o
Fennek
é um
veículo militar blindado usado em reconhecimento
produzido em conjunto pela
alemã Krauss-Maffei Wegmann
e a
Dutch Defence Vehicle Systems, da Holanda
.
Ele foi
desenvolvido especialmente para os exércitos destes dois países.
Link:
Armoured.Reconnaissance.Vehicle.Fennek.Paper.Model.In.1/43.Scale.by.Rawen
More Paper Models of Military Vehicles related posts:
1899`s Armored Steam Tractor Paper Model - by JB Models - Trator Blindado
1932`s Soviet Amphibian Tank T-33 - by Paul - via Le Forum En Papier
Tatra 111 Afrika Korps Paper Model - by DTS Modelling
U.S.Army Jeep Paper Model In 1/100 Scale - by Rawen - Jipe Militar