Created by Japanese designer Nobi
, this is the
paper doll version of Alice Margatroid
, character from a
videogame series called Touhou Project
. The
Touhou Project
, also known as
Toho Project or Project Shrine Maiden
, is a
series of Japanese bullet hell shooter video games
developed by the
single-person Team Shanghai Alice
. Team Shanghai Alice's
sole member, ZUN
, independently
produces the games' graphics, music, and programming.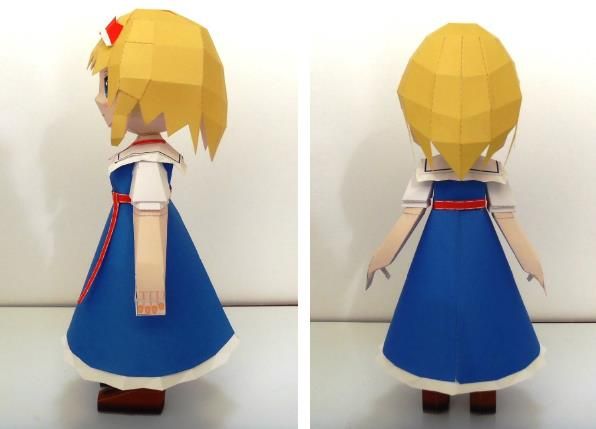 Criada pelo designer japonês Nobi,
esta é a
versão paper doll de Alice Margatroid
, personagem de uma
série de videogames chamada Touhou Project
.
Touhou Project
, também conhecida como
Toho Project e Project Shrine Maiden
, é uma
série de jogos "estilo shooter" feitos por uma única pessoa
, conhecida apenas como
ZUN
, que
fez a maior parte dos gráficos, música e programação sozinha.
Main link:
Touhou.Project.Alice.Margatroid.Paper.Doll.by.Nobi
Optional link:
Touhou.Project.Alice.Margatroid.Paper.Doll.by.Nobi.via.Pepakura.Gallery
More Paper Dolls from Animes,Mangás and Videogames related posts:
Madoka Paper Doll Anime Style - by Kujira - Boneca Estilo Anime
Kyuo Fujibayashi Paper Doll Anime Style - by Ani Papercraft
Ruri Ruri Paper Doll Anime Style - by Moekami - Boneca Estilo Anime
Kyoko Chan II Paper Doll Anime Style - by Ameblo - Boneca Estilo Anime