Model Assembled and Photos by BRSpidey
Created by French designer and modeler Marie,
aka
Gardevoir7
, this
perfect paper model version of Meowth
, from
Pokemon, Japanese animes series
, occupies
three sheets of paper
and the templates are
disponible in two formats:
:
PDF and PDO (Pepakura)
, so you can
print the model with the PDF format and use the PDO format as guide,
because it
can be visualized in 3D.
If you don`t have
Pepakura Viewer Free Version
yet, the
link to download
is at the
end of this post.
- The
model of the photos
was assembled by
Mexican modeler BRSpidey
. He said: -
"It was printed
on
125gr paper, 4 pages per sheet, photo quality
, it's
painted with matt clear lacquer spray
with a
touch of bright liquid varnish
. In the end this
measured about 7 cm tall."
Criado pela designer francesa Marie, aka Gardevoir7,
esta
perfeita versão em papel do Meouth
, da
série japonesa de animes Pokemon
, ocupa
três folhas de papel
e os
templates
estão disponíveis em
dois formatos: PDF e PDO (Pepakura)
,então você pode usar o
PDF para imprimir as peças e o PDO como guia de montagem
, já que com ele você pode
visualizar o modelo em 3D.
Se você ainda não tem o programa
Pepakura Viewer Versão Gratuíta,
o
link para baixá-lo
se encontra no
final deste post.
- O modelo das
fotos deste post
foi montado pelo
modelista mexicano BRSpidey.
Ele disse: -
"Tudo foi impresso em papel de 125 gramas, 4 páginas por folha, na qualidade foto
, depois recebeu
spray de laca e mais um toque de verniz líquido brilhante
. No final o modelo ficou com
cerca de 7 cm de altura."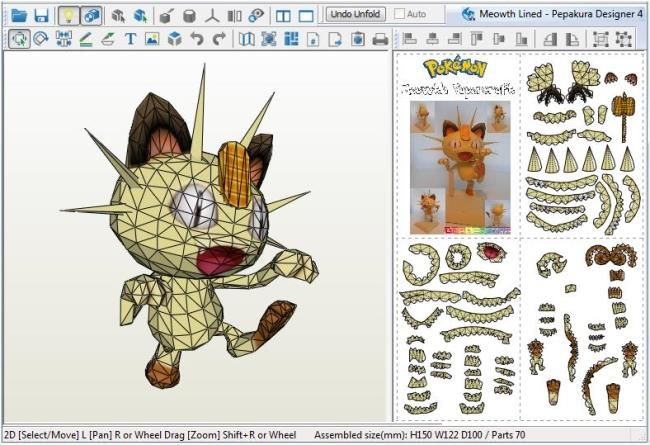 Link to download the model:
Pokemon.Jolly.Meowth.Paper.Model.by.Gardevoir7.via.DEviantArt
Link to Pepakura Viewer Free Version:
Pepakura.Viewer.Free.Version.Official.Page
More Anime and Mangá Paper Models related posts:
Chibi Madoka Magica Paper Dolls - by Tsunyandere
Kyoko Chan II Paper Doll Anime Style - by Ameblo - Boneca Estilo Anime
K-On`s Akiyama Mio Paper Doll - by Fruity/My Papercraft - Boneca Estilo Anime
Scarlet Sisters Paper Dolls Anime Style - by Seesaa