Models Assembled and Photo by SarienSpiderDroid
Again I refer to the work of German modeler SarienSpiderDroid
to
illustrate a blog post
. These beautiful
vintage paper models of WWI aircrafts
were
originally published
by the
children and teenagers German magazine YPS in the 1980s.
Preserved and shared
by a
group of fans on the site YPS Fanpage
, now you can
download the templates and assemble them.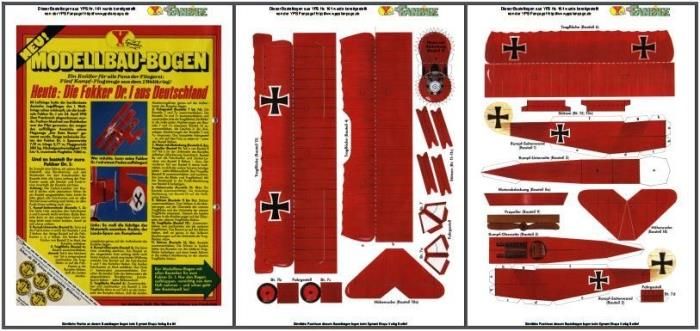 Novamente eu recorro ao trabalho da modelista alemã SarienSpiderDroid
para
ilustrar um post
do blog. Este belos
modelos de papel antigos de aviões da Primeira Grande Guerra
foram
originalmente publicados
pela
revista infanto-juvenil YPS, da Alemanha, na década de 1980
.
Preservados e compartilhados
pou um
grupo de fãs no site YPS Fanpage
, agora você pode
baixar os templates e montá-los.
Link:
Four.Biplanes.And.A.Triplane.Paper.Models.by.YPS.Fanpage
More Paper Models of WWI Aircrafts related posts:
Triplane Fokker Dr I - by Recortecole - Avião Triplano - WWI
René Fonck`s Spad XIII WWI Aircraft - by Patrick Pasques
WWI`s Fokker E III Aircraft - by Modele Kartonowe
Sopwith F.1 Camel WW1 Plane - by Kota - Avião Biplano WW1