My friend Aldo Ross,
from
USA
, built the
Snowy Owl paper model
created by
Japanese designer Ikuo Anazawa,
comissioned by
Canon website
.
Aldo says: - "I was not happy with the pose or appearance of the paper feet and talons
, so I
"cheated" a little bit
by making replacements from
polymer clay and chicken feathers
. I like these better, so the
next step will be to make similar feet using only paper.
"
"Thanks, Aldo, for the nice photos! You did a really great work! Greetings from Brazil to USA!" - Mauther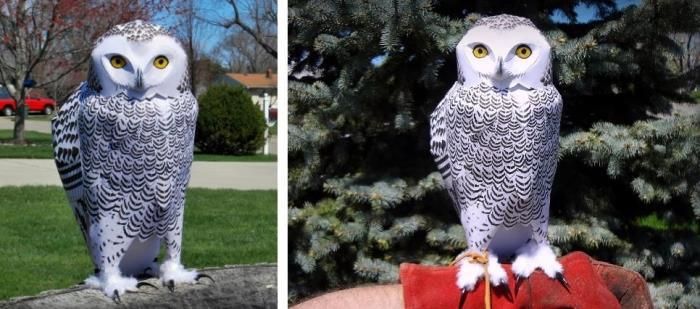 Meu amigo Aldo Ross
, dos
EUA
, montou o
modelo de papel da Coruja da Neve
, criado pelo
designer japonês Ikuo Anazawa
, para o
site da Canon
. Ele diz: -
"Eu não estava contente com a aparência das patas e garras de papel
, então eu
"trapaceei"
um pouco, substituindo-as por
patas de argila e penas de galinha
. Eu achei que estas ficaram melhores, então
na próxima vez tentarei fazer as patas usando apenas papel.
"
"Muito obrigado, Aldo, pelas belas fotos! Você fez um ótimo trabalho, realmente! Saudações do Brasil aos EUA!" - Mauther
Link:
Female.Snowy.Owl.Paper.Model.by.Ikuo.Anazawa.via.Canon
More Paper Models of Birds related posts:
Easy-To-Build Paper Birds - by Gansuke - Pássaros De Papel
Colorful Parrot Papercraft - by Education Scholastic
Firecrest and Kingfisher Birds Realistic Style - by Johan Scherft
King Eagle Paper Model - by Paper Juke - Águia Rei