The Kollmann Park Water Tower
was built in
1898
on the
foundations of a former powder magazine
of the
Federal Fortifications
. It works until
1962
. Today this is a
baroque-looking symbol of the city of Neu-Ulm,
in
Germany.
Perfect for
Dioramas, RPG and Wargames
, this
paper model in N (1/160 scale)
is offered by
Ausschneide Bogen, German website
. You will nreed
nine sheets of paper
to build this.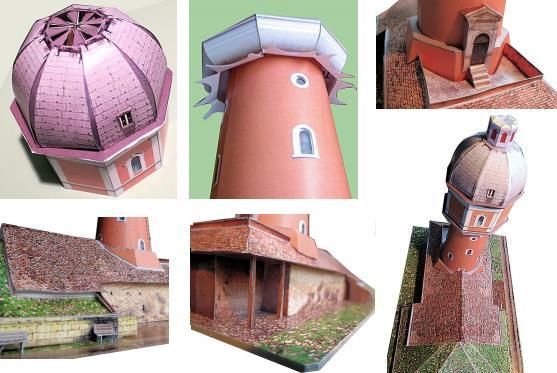 A Torre de Água do Parque Kollmann
foi
construída em 1898
sobre as
fundações de um antigo paiol de pólvora das Fortificações Federais
. Ela funcionou até
1962
. Hoje, é um símbolo do
estilo barroco da cidade de Neu-Ulm
, na
Alemanha.
Perfeito para
Dioramas, RPG e Wargames
, este modelo, na
escala N (escal 1/160)
é oferecido pelo site
Ausschneide Bogen, da Alemanha
. Você precisará de
nove folhas de papel
para montá-lo.
Link:
Kollmann.Park.Water.Tower.Paper.Model.by.Ausschneide.Bogen
More European Architectural Paper Models related posts:
Swiss Wood Cabin - by Papermau - Cabana de Madeira Suíça
Tudor-Cottage - by Sirius Art Works - Chalé Vitoriano
European Buildings - by Brest Maquettes - Casa Européias
Victorian House Model - by Scenery Builder - Casa Vitoriana