This is Kokona-Chan
, character from
Encouragement Of Climb, Japanese anime and mangá series
. This
perfect paper doll version of Kokona-Chan
was created by
Japanese designer Fumi-A.
Dont`t let to
take a look at the link to the photo instructions
to know more
about the design of this cute paper doll
. - To
view and print this model
you will need
Pepakura Viewer Free Version
(
link at the end of this post
).
Este é Kokona-Chan
, personagem da
série de mangás e animes japonesa Encouragement Of Climb.
Esta
perfeita versão paper doll de Kokona-Chan
foi criada pelo
designer japonês Fumi-A.
Não deixe de dar uma olhada no
link com o tutorial fotográfico
para
saber mais sobre o design desta bela paper doll.
- Para
visualizar e imprimir este modelo
você precisará do
Pepakura Viewer Versão Gratuíta
(
link no final deste post
).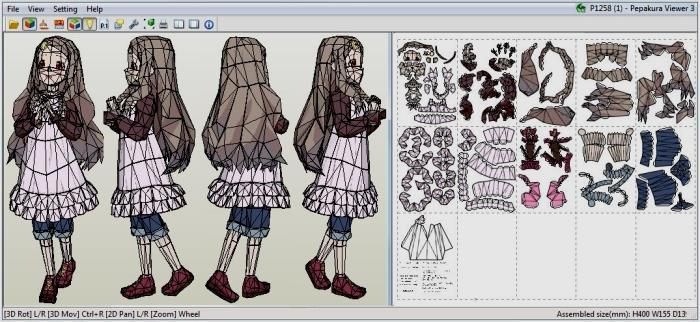 Link to download the model:
Encouragement.Of.Climb.Kokona.Chan.Paper.Doll.by.Fumi.A.Download
Link to photo instructions:
Encouragement.Of.Climb.Kokona.Chan.Paper.Doll.by.Fumi.A.Instructions
Link to Pepakura Viewer Free Version:
Pepakura.Viewer.Free.Version.Official.Page
More Paper Dolls from Animes and Mangás related posts:
K-On - Hokago Tea Time Paper Dolls - by Borghie - via DeviantArt
Hatsune Miku Paper Doll In Anime Style - by MidnightFox
Horo Paper Doll In Anime Style - by XDiem - Boneca Estilo Anime
Three Sisters Paper Dolls In Cubic Style - by Pontacerone