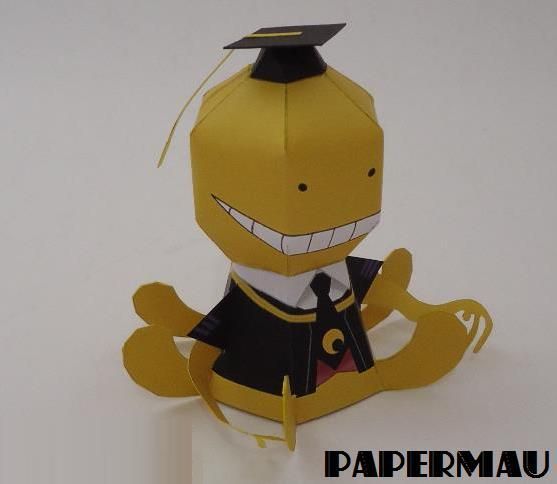 Malú, my Otaku daughter,
ask me to build
Korosensei paper toy
, from
Assassination Classroom mangá series, written and illustrated by Yuusei Matsui.
This very well done
paper toy version of Korosensei
was created by
Japanese designer Kataho
and was originally posted at
Pepakura Gallery
website. -
Korosensei is the homeroom teacher for Class 3-E
of
Kunugigaoka Junior High School
, and the
central character and main antihero of Assassination Classroom. Korosensei
claimed to be
responsible for creating the permanent crescent moon
and said that
he plans to destroy the earth after "teaching" Class 3-E for a year.
Prior to being a teacher
he was the master assassin known as the "God of Death."
-
If you want to build yours
, the
link to download the model
, that occupies
only one sheet of paper
, is right
below
,
at the end of this post.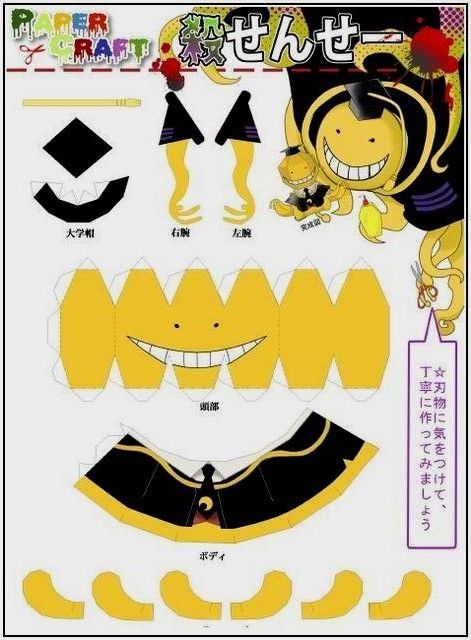 Malú, minha filha Otaku,
pedi-me para montar o
paper toy do Korosensei
, da
série de mangás Assassination Classroom, escrito e ilustrado por Yuusei Matsui.
Esta
versão paper toy muito bem feita do Korosensei
foi criada pelo
designer japonês Kataho
e foi originalmente postada no site
Pepakura Gallery.
-
Korosensei é o professor da classe 3-E da escola Kunugigaoka Junior High School
e o
personagem central e principal anti-herói de Assassination Classroom
.
Ele se diz ser
responsável pela criação da lua crescente permanente
e também que p
laneja destruir a Terra depois de lecionar durante um ano para Classe 3-E
.
Antes de ser um professor
ele era um mestre assassino conhecido como o "Deus da Morte."
-Se você quiser
montar um só prá você
, o
link para baixar o modelo
, que
ocupa apenas uma folha de papel
, está
logo abaixo.
Link:
Assassination.Classroom.Korosensei.Paper.Toy.by.Kataho.via.Pepakura.Gallery
More Paper Models built by Papermau:
I Built The Japanese Shinkai Sansha Shinto Shrine Paper Model
Halloween Special - I Built The Ravensblight Ghost Train Paper Model
I Built The Baymax Robot Paper Model - by Paper Replika
I Built The Old Lighthouse Paper Model - by Ravensblight