These cute paper toys are the mascots
of
Itogawa Geopark
, in
Japan.
The
little globe is Geo Maru
and his
two colors represent the Itoigawa-Shizuoka Tectonic Line
, that is a
major fault on Honshu island
that runs from the
city of Itoigawa, Niigata Prefecture,
through
Lake Suwa to the city of Shizuoka in Shizuoka Prefecture
. It is often confused with
Fossa Magna
which lies to the east.
Recent surveys
show that
this failure has a 30% chance to cause a major earthquake in the next 30 years.
The little doll is Nuna
and she is based on the
legendary goddess and Princess of Itoigawa, Nunakawa
. She is a
friendly, caring, and wise princess
, with
a great love for Itoigawa
, the
Jade Kingdom
, and
her subjects who live there.
Estes dois simpáticos paper toys
são os
mascotes
do
Itogawa Geopark
, do
Japão.
O
pequendo globo é o Geo Maru
e
suas duas cores representam a a Linha Tectônica de Itoigawa-Shizuoka
, que é uma
falha grave na ilha de Honshu
, que se estende desde a
cidade de Itoigawa
, através de
Lago Suwa
até a cidade de
Shizuoka
. É muitas vezes confundida com
Fossa Magna
, que fica a leste.
Pesquisas recentes
atestaram que
essa falha tem 30% de chance de causar um terremoto de grandes proporções nos próximos 30 anos.
A delicada bonequinha é Nuna
e ela é baseada na
lendária deusa e princesa de Itoigawa, Nunokawa
. Ela é um
simpática, atenciosa e sábia princesa
, com
um grande amor por Itoigawa
, o
Reino de Jade
, e por
seus súditos que lá vivem.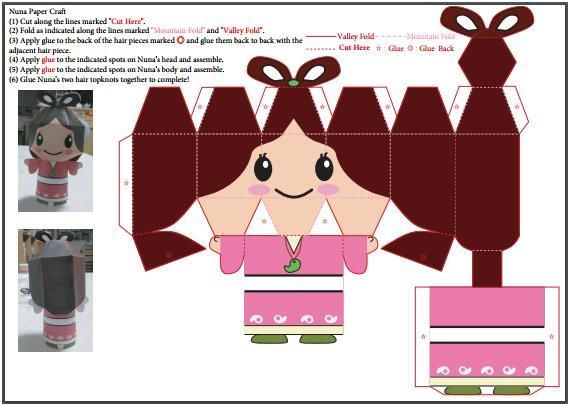 Link:
Geo.Maru.And.Nunokawa.Paper.Toy.Mascots.by.Itogawa.Geopark
More Mascot Paper Toys related posts:
Tea Factory Mascot - by Kagoshima - Mascote De Fábrica de Chá
Japanese Shoyu Mascot Mittan Paper Doll - by Cafetera
Samurai Pig Mascot Paper Toy - by Prefecture Of Kagoshima
Kawaiipunk Mascot Papertoys - by Ruang Antho