Model ssembled and all photos of this post by Dan
In fact, I know nothing about Joey Juvito
, unless he is
a great designer
and
he created the most perfect paper version so far of Darth Vader`s helmet/mask
. Joey
kindly shared his work
at The
RPF forum
and
his friend Dan
built the model with perfection
, as you can see
in the photos of this post.
In 1/1 scale, this is great model for all fans of Star Wars and Cosplayers.
- To
view and print this model
you will need
Pepakura Viewer Free Version
(
link at the end of this post
).
De fato, eu não sei nada sobre Joey Juvito
, a não ser que
ele é um grande designer
e que
ele criou a mais perfeita versão em papel até agora do capacete/máscara do Darth Vader.
Joey gentilmente compartilhou seu trabalho
no
forum The RPF
e
seu amigo Dan montou o modelo com perfeição
, como pode ser visto nas
fotos deste post.
Na escala 1/1, este é um ótimo modelo para fãs de Star Wars e Cosplayers.
- Para
visualizar e imprimir este modelo
você precisará do
Pepakura Viewer Versão Gratuíta
(
link no final deste post
).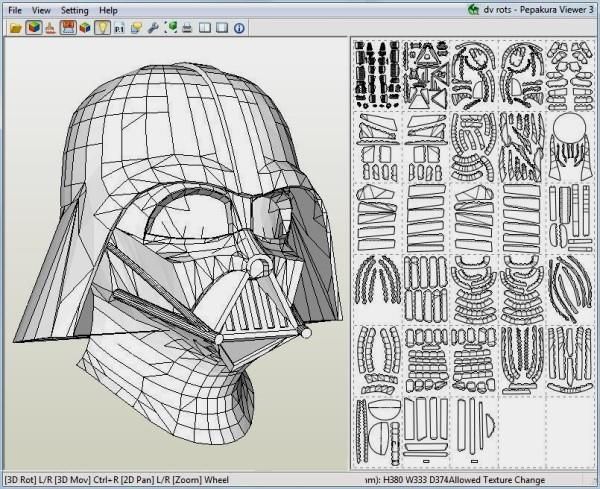 Link to download the model:
Darth.Vader.Accurate.Helmet.Paper.Model.In.1/1.Scale.by.Joey.Juvito.Download
Link to Pepakura Viewer Free Version:
Pepakura.Viewer.Free.Version.Official.Page
Link to the thread at RPF forum:
Darth.Vader.Helmet.Paper.Model.by.Joey.Juvito.Thread.at.RPF.Forum
More Sci-Fi Paper Models related posts:
Star Wars - Grand Master Yoda Paper Model - by Piromodel
Iron Man - Patriot Armour Mini Paper Toy - by Gus Santome
Dr. Who, Amy and Tardis Paper Toys - by Goobeetsa
We Come In Peace - Alien Race Papercraft - by Paper Replika