Model Assembled and Photos by Jackdaw
This beautiful paper model of a Vintage Truck is from an old computer program called The Toy Shop.
-
"The Toy Shop was a wonderful computer program from the '80s which allowed you to decorate and print twenty different paper models which actually move! It included all the dowels, wires, balloons, and so on which were required to create the models. I've enjoyed using this program on my Commodore 64 for many years, and now I am able to share these models with the paper modeling community so you can download and build your very own Toy Shop creations with any PC or Mac!"
-
Mike and Lace
-
There are many other models on the website, like the functional Catapult that you can see in the last image of this post.
- Originally published in
06/10/2014.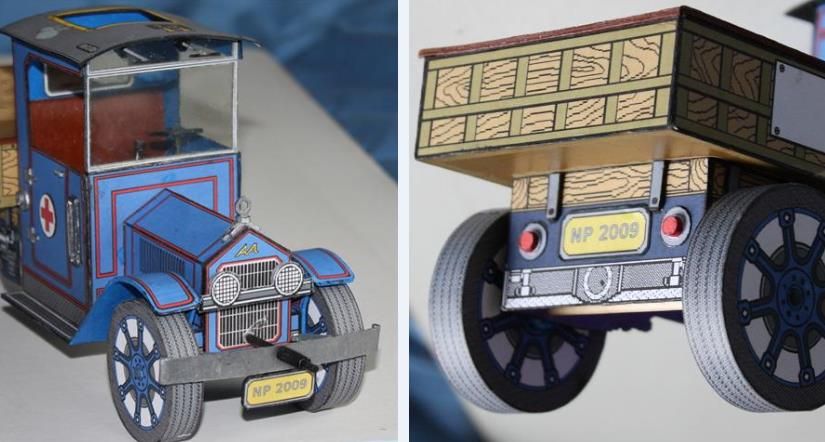 Este belo modelo de papel de um Caminhão Antigo é de um velho programa de computador chamado The Toy Shop.
-
"The Toy Shop, ou A Loja de Brinquedos, é um maravilhoso programa de computador dos anos 80 que permitia que você decorasse e imprimisse vinte modelos de papel diferentes, com movimentos! No pacote vinham todos os acessórios, fios, balões e pecinhas que eram necessárias para criar os modelos. Eu brinquei com este programa no meu Commodore 64 durante muitos anos, e agora eu posso compartilhar esses modelos com a comunidade modelismo de papel, para que você possa baixar e construir suas próprias criações do Toy Shop em qualquer PC ou Mac!"
-
Mike and Lace
-
No site há muitos outros modelos disponíveis, com o a Catapulta funcional que você vê na imagem abaixo.
- Originalmente publicado em
10/06/2014.
Model Assembled and Photo by Cgutzmer
Link:
Antique.Truck.Paper.Model.by.Broderbund.via.Mike.And.Lace
More Paper Toys related posts:
The Pirate Cove Diorama Paper Model - by Papermau - Download Now!
Mega Lego Skeleton - by ZombieGorilla - via Instructables
Lego Truck - BoxZet Paper Toy Series - by Byman Studio
Medieval Castle Facade For Mini Figures In 1/25 Scale - by Papermau - The Model Assembled