Created by a French designer called Le Hedan in 1940`s
, this
vintage paper model
of a
WW2 Military Jeep
was
preserved
and is now
shared by Agence Eureka
website. You will find
many other vintage and rare paper models there.
including
more one Military Jeep (photo below)
, already
posted here on the blog in 2011
(you will find the link for it at the end of this post).
Criado por um designer francês chamado Le Hedan
, nos
longinquos anos 1940
, este
modelo de papel antigo
de um
Jeep Militar da Segunda Grande Guerra
foi
preservado
e é agora
compartilhado
pelo site
Agence Eureka
. Você irá encontrar
muitos outros modelos de papel antigos e raros lá,
incluindo
mais um Jeep Militar (foto acima)
, já
postado aqui no blog em 2011
(você encontrará o link para ele no final deste post).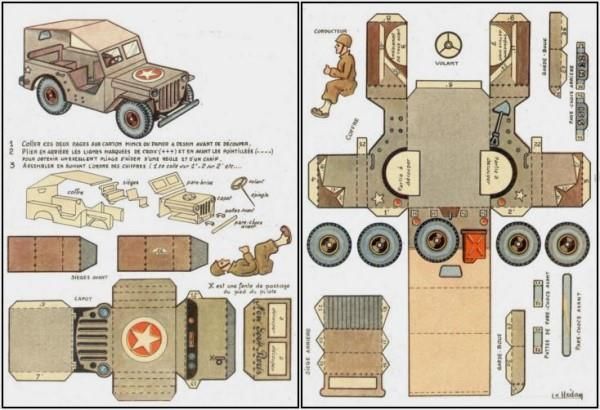 Link part 01 restaured:
1940`s.Military.Jeep.Paper.Model.by.Le.Hedan.via.Agence.Eureka.Restaured.Version.01
Link part 02 restaured:
1940`s.Military.Jeep.Paper.Model.by.Le.Hedan.via.Agence.Eureka.Restaured.Version.02
Link part 01 original:
1940`s.Military.Jeep.Paper.Model.by.Le.Hedan.via.Agence.Eureka.Original.Version.01
Link part 02 original:
1940`s.Military.Jeep.Paper.Model.by.Le.Hedan.via.Agence.Eureka.Original.Version.02
Link to another Jeep:
Jeep.WW2.Vintage.Paper.Model.by.Agence.Eureka
Link to Agence Eureka main page:
Agence.Eureka.French.Vintage.Paper.Models.Main.Page
More Vintage Paper Models of Cars and Vehicles related posts:
Stella Artois French Bier Truck Paper Model - by Camille & Bugso
1906`s Spyker Open Tourer Paper Model - by Milan Novobilský
Vintage Greyhound Bus Paper Model - by Toy Connect
Daimler Benz Vintage Limousine Papercraft - by Unknown