Salvador Domingo Felipe Jacinto Dalí i Domènech,
Marqués de Dalí de Pubol
(
11/05/1904 – January/01/1989
), known as
Salvador Dalí
, was a prominent
Spanish surrealist painter
born in
Figueres, Catalonia, Spain.
Dalí was a skilled draftsman
, best known for the
striking and bizarre images in his surrealist work
. His
painterly skills
are often attributed to the
influence of Renaissance masters
. His best-known work,
The Persistence of Memory
, was completed in
August 1931
.
Dalí's expansive artistic repertoire
included
film, sculpture, and photography
, in
collaboration with a range of artists in a variety of media.
- read more at
Salvador.Dali.at.Wikipedia
Dalí and his most famous work -The Persistence of Memory
Salvador Dalí i Domènech, 1º Marquês de Dalí de Púbol
(
11/05/1904 — 23/01/1989
) foi um importante
pintor catalão
, conhecido pelo seu
trabalho surrealista
. O trabalho de
Dalí
chama a atenção pela
incrível combinação de imagens bizarras, oníricas
, com
excelente qualidade plástica
.
Dalí
foi influenciado pelos
mestres do classicismo
. O seu trabalho mais conhecido,
A Persistência da Memória
, foi concluído em
1931.
Salvador Dalí
teve também trabalhos artísticos no
cinema, escultura, e fotografia.
- leia mais em
Salvador.Dali.na.Wikipedia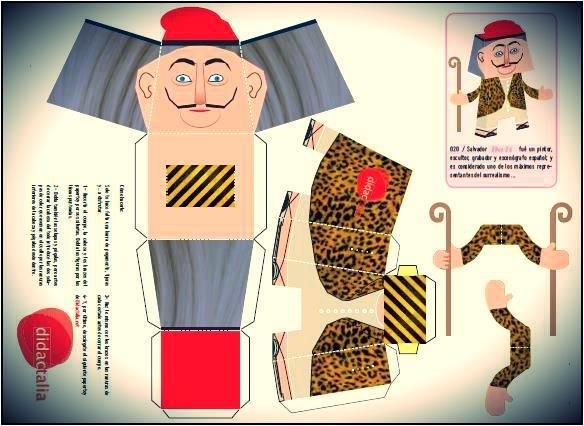 Link:
Spanish.Surrealist.Painter.Salvador.Dalí.Paper.Toy.by.Didactalia
More Pop Culture Paper Models related posts:
Albert Einstein Paper Toy - by Makss - via Card Model China
Marilyn Monroe Sculpted Head Paper Model - by Hyakunin
Charles Dickens And Jules Verne Dress Up Paper Doll - by Dover
The Beatles - The Cavern Club Diorama Paper Model - by Papermau - Download Now!