This is Sigilyph, a spherical Pokémon
, possessing
two cyan eyes
with
a third on a black appendage on top of its head
.
Sigilyph
will use its
psychic powers to attack anyone who invades its territory.
This
paper model
version was created by
Brazilian designer João Vieira
, from
Paper E Craft website.
-
You will find the model in two formats
:
PDF and PDO (Pepakura)
, so you can
print the model with the PDF format and use the PDO format as guide,
because it
can be visualized in 3D.
If you don`t have
Pepakura Viewer Free Version
yet, the
link to download
is at the
end of this post.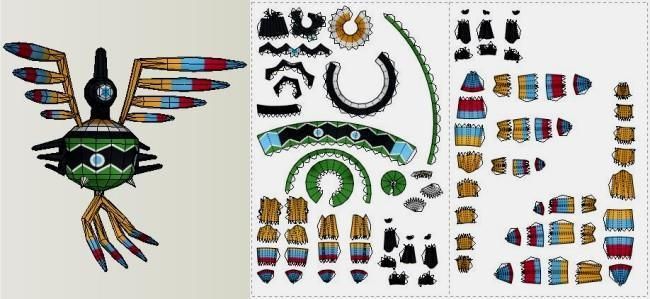 Este é Sigilyph, um Pokémon de forma esférica,
que possui
dois olhos azuis e mais um em um apêndice preto em cima de sua cabeça.
Sigilyph
usa seus
poderes psíquicos para atacar qualquer um que invada seu território.
Este
modelo de papel
foi criado pelo
designer brasileiro João Vieira
, do site
Paper E Craft.
-
Você encontrará o modelo em dois formatos: PDF e PDO (Pepakura),
então você pode usar o
PDF para imprimir as peças e o PDO como guia de montagem
, já que com ele você pode
visualizar o modelo em 3D.
Se você ainda não tem o programa
Pepakura Viewer Versão Gratuíta,
o
link para baixá-lo
se encontra no
final deste post.
Link to download the model:
Pokemon.Sigilyph.Psychic.Pokemon.Paper.Model.by.Paper.E.Craft
Link to Pepakura Viewer Free Version:
Pepakura.Viewer.Free.Version.Official.Page
More Pokemon Paper Models related posts:
Pokémon Papercraft - Bulbasaur, Ivysaur and Venusaur - by Paper Pokés
Pokémon Papercraft - Charmander - by Paper Pokés
Pokémon Papercraft - Charmeleon - by Paper Pokés
Pokémon Papercraft - Squirtle, Wartortle and Blastoise - by Paper Pokés