This is the WW2`s Type 5 Heavy Tank
, here in a
very detailed
paper model version in 1/50 scale,
offered by
World of Tanks, Russian website.
The Type 5 Heavy is a Japanese tier 10 heavy tank
. The
Type 5
, also known as
Type 2605
, was one of the
variants of the O-I superheavy tank
, developed
during WWII
. The vehicle was planned to be used for
breaking through fortified enemy lines and for coastal defense.
The
Type 5 Heavy
marks the
end of its Japanese heavy line
.
Este é o Type 5, um tanque pesado japonês
da
Segunda Grande Guerra
, aqui em uma
bem detalhada versão em papel na escala 1/50,
oferecido pelo
site russo Wolrd of Tanks.
O tanque pesado Type 5
era um
tanque de guerra japonês
. O
Type 5
, também conhecido como
Type 2605,
foi uma das
variantes do tanque super pesado O-I
desenvolvidas
durante a Segunda Guerra Mundial.
O veículo foi planejado para
quebrar as defesas das linhas inimigas fortificadas e para defesa costeira.
O
Type 5
marcou o
fim da produção de tanques pesados japoneses.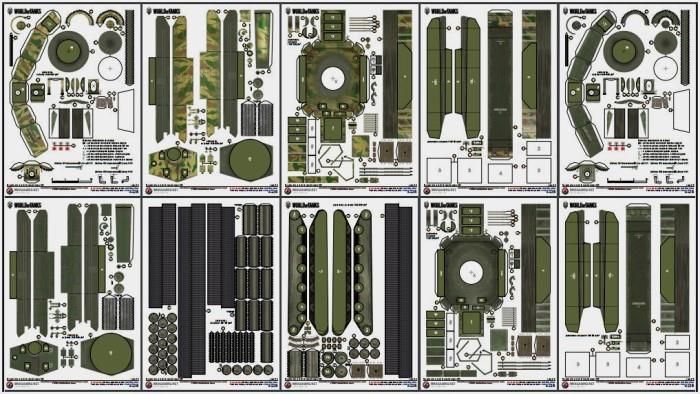 Link:
WW2`s.Type.5.Heavy.Tank.Paper.Model.by.World.Of.Tanks
More Paper Models of Tanks related posts:
WW2`s Tank M3A Honey Paper Model In 1/48 Scale - by Konradus
Renault FT 17 Paper Model- The World's First Modern Tank - by PeaGrafis - via Le Forum En Papier
40K Predator Mk1C Tank Paper Model - by Paper WarGames
1927`s Interwars Light Tank T1E1 Paper Model - by Alberto Perilli - via Thailand Namotasa