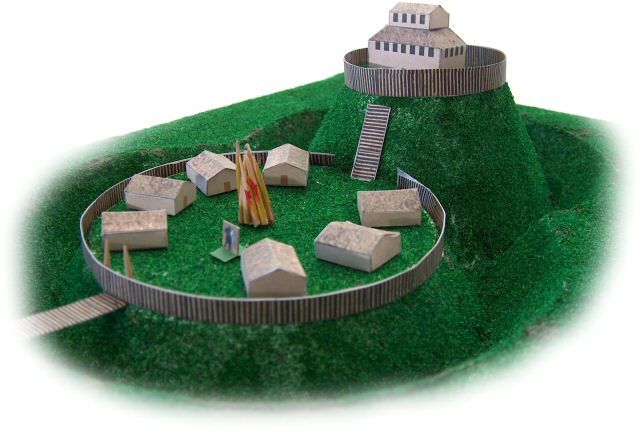 This is a school project
and a great model too. Very
diferent and unusual
, offer several possibilities to improve the model.
Motte and Bailey castles
, popular in Britain during the 11th and 12th centuries, typically consisted of a fortified courtyard (bailey) overlooked by a wooden castle built on a mound of earth (motte).
Berkhamsted castle
is one of the oldest
motte and bailey
castles in
Britain
.
William of Normandy
granted the manor and honour of
Berkhamsted
to his half brother,
Robert of Mortain
, who then set about building a strongly fortified castle, constructed at the bottom of a dry valley where there were springs available to fill the moats.
The motte and bailey model
pictured here was drawn-up, built and photographed by Alex, a year 7 student. -
armadamodels.co.uk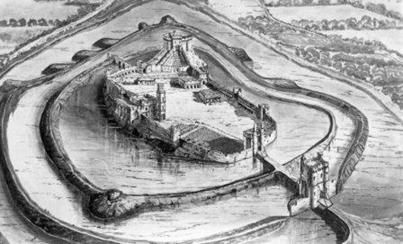 Este é um projeto escolar
e também um grande modelo. Bem diferente e incomum.
Um castelo
Motte e Bailey
poderia ser traduzido livremente como
Fortificação de Madeira sobre Morro
e era popular na
Grã-Bretanha
durante os séculos 11 e 12. Tipicamente consistia de um pátio fortificado
(bailey)
em que predominava um castelo de madeira construído sobre um monte de terra
(motte)
.
O Castelo Berkhamsted
é uma das mais antigas fortificações no estilo
motte bailey
da
Grã-Bretanha
.
William da Normandia
concedeu o castelo e os títulos referentes a ele ao seu meio-irmão,
Robert de Mortain
, que logo o fortificou. -
armadamodels.co.uk
Link:
Motte.And.Bailey.Castle.Papercraft.Project.For.School.Works.by.Armada.Models
More Paper Models of Castles and Fortifications related posts:
Medieval Church - by Papermau - Igreja Medieval
Medieval Castle Paper Model - by Norbtach - Castelo Medieval
Desktop Medieval Castle - by Papermau - Castelo Medieval
European Medieval City - by Kaukapedia - Cidade Medieval Européia