I think that Hot Wheels and Matchbox collectors
will love this
Inkafarma diorama paper model In 1/64 scale
, created by
Peruvian designer Marco Funcke
.
Marco
said:
"Inkafarma is a chain of drugstores in Peru
. This diorama is
based on one that lies two blocks away from my home.
Since it has this
peculiar arrangement where it has a parking space in front enclosed by two side walls
and the actual drugstore at the back, I considered it
well suited for use as a background for photographing die-cast cars in 1/64 scale.
I had wanted to do this for quite a while, but unfortunately one day the signs of the drugstore were covered with canvas, and only a couple of weeks ago (after several months) they were uncovered again.
So I took my camera, snapped a few shots, and came back home. I hope they don't mind."
-
read more about this model and the creative process at the link to instructions, at the end of this post.
"
Thank you, Marco, it is a honor for me present your work here on the blog
.
Greetings from Brazil to all Peruvians friends."
-
Mauther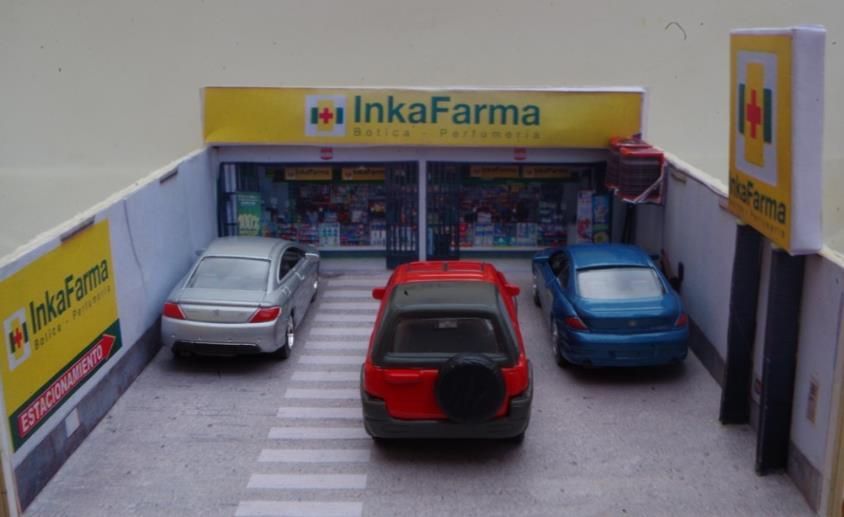 Eu acho que os colecionadores de miniaturas Hot Wheels e Matchbox
irão adorar este
papercraft/diorama da Inkafarma na escala 1/64
, criado pelo
designer peruano Marco Funcke.
Marco
disse: -
"Inkafarma é uma cadeia de farmácias no Peru.
Este diorama é baseado em
uma que se encontra a duas quadras da minha casa.
Ela tem esse
arranjo peculiar onde há um espaço de estacionamento na frente
delimitado por duas paredes laterais e a farmácia fica atrás, então eu considerei-a ideal para um
diorama/ stand para fotografar miniaturas de veículos na escala 1/64.
Eu queria fazer isso já faz um bom tempo, mas infelizmente e um dia
os letreiros de farmácia estavam cobertos com lonas
, e apenas
duas semanas atrás (após vários meses), eles foram descobertos novamente
. Então
eu peguei a minha câmera, tirei algumas fotos, e voltei para casa. Espero que eles não se importem."
-
leia mais sobre este modelo e sua concepção baixando as instruções (em inglês) no link abaixo.
"Muito obrigado, Marco, é uma honra para mim. apresentar Seu trabalho aqui no blog. Saudações do Brasil a todos os amigos peruanos."
-
Mauther
Link to download the model:
Inkafarma.Diorama.Paper.Model.In.1/64.Scale.by.Marco.Funcke.Template
Link to the instructions (only text):
Inkafarma.Diorama.In.by.Marco.Funcke.Instructions.Only.Text
Link to the instructions (with photos):
Inkafarma.by.Marco.Funcke.Photo.Instructions.via.Matchbox.Peru
More Architectural Paper Models in 1/64 Scale related posts:
Wood House In The Desert - by Papermau - Download Now!
Box For HotWhells and Matchbox Miniatures In 1/64 Scale - by Papermau Download Now!
The Generic Garage Paper Model - by Papermau - Download Now!
Matchbox Fire Station Paper Model In 1/64 Scale - by Paper House 164