Visit Big Indoor Trains website
to
learn how to build
this cool
Vintage-Style Cardboard Halloween House
, created by
Howard Lamey & Paul Race
. You will find a
very well done tutorial
and also the
template of this little house to print.
It will give a
very unique touch to your Halloween decor.
This project will require you to
do more than just print and assemble
. You have to
use your imagination to paint and decorate
your little house, but
the result will be worth it.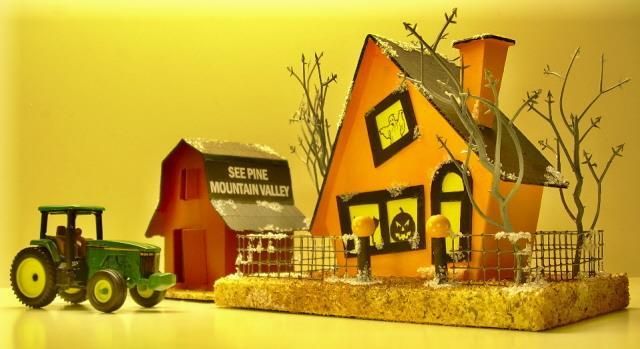 Visite o site Big Indoor Trains
para
aprender como construir
esta
Casa de Dias das Bruxas em estilo Vintage
, criada por
Howard Lamey & Paul Race.
Você vai encontrar um
tutorial muito bem feito
e também o
molde desta casinha para imprimir
. Vai dar um
toque todo especial
para sua
decoração de Dia das Bruxas.
Este projeto vai exigir que você
faça mais do que só imprimir e montar
. Você terá que
usar sua imaginação para pintar e decorar
sua casa, mas
o resultado valerá a pena.
Link:
Halloween.Special.Building.A.Vintage.Style.Cardboard.Halloween.House.by.Howard.Lamey.&.Paul.Race
More Halloween With Tutorials Projects related posts:
This Is Not Paper, But... - Make Your Own Cute And Spooky Ghosts - by My So Called Crafty Life
This Is Not Paper, But... - Rock Jack-O-Lanterns - by No Time For Flash Cards
It Is Not Paper, But... - Cheesecloth Ghosts - by Chicken Blog - Fantasma de Gazes
Mega Lego Skeleton - by ZombieGorilla - via Instructables