Ray O`Bannon,
designer of this cool paper model,
says: -
"This here's a 1958 Plymouth Fury
, her name's
Maxine
. She's in
pretty fair shape, runs real good.
.. 'course folks say
she's haunted
by that cranky old cuss that
used to run bootleg whiskey all over the county.
Heck, some folks even say... well,
you don't wanna worry
'bout none of that, you just hop on in and
take her for a spin, see whatcha think."
Ray O`Bannon,
designer deste
modelo de papel muito show,
diz: - "Este é um
Plymouth Fury modelo 1958
.
"Ela"
se chama
Maxine.
Ela está
bem enxuta pra idade, anda bem
... a rapaziada da antiga diz que ela é
assombrada pelo antigo dono, velho e raivoso
, que a
usava para entregar Whiskey caseiro por todo o condado
.
Estragada
, alguns chegam a dizer ... bem,
se eu fosse você não esquentava a cabeça com isso
, simplesmente
pegava ela e saia para dar umas voltas
e d
epois você me diz o que acha."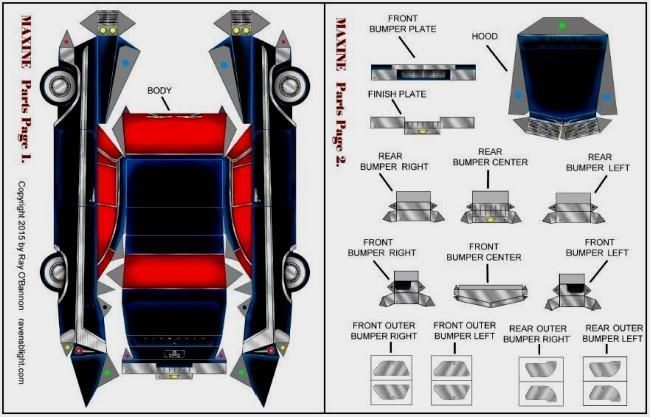 Link:
Halloween.Special.1958`s.Plymouth.Fury.Maxine.Paper.Model.by.Ravensblight
More Paper Models of Classic Cars and Vehicles related posts:
Lomax Britsh Paper Car - by Faehnrichweb.De
Pontiac 1977 Trans Am Paper Car - by Hiperfanauto
BMW Z4 M Coupe Paper Car - by Farewell The End
Jaguar E-Type Paper Car - by Canon