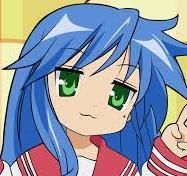 Created by Japanese designer Mr. Imossan
, this is the
paper doll in chibi style of Konata Izumi
, from
anime and mangá series Lucky Star
.
Lucky Star is a Japanese four-panel comic mangá
by
Kagami Yoshimizu
. The mangá has been serialized in
Kadokawa Shoten's Comptiq magazine since January 2004.
Like many other
comic mangás,
it has
no ongoing plot,
and
typically focuses on the daily lives of the characters.
Konata Izumi is the main character and protagonist of the Lucky Star series
, and is
the Lucky Star crew's leader
. She is the
daughter of Sojiro Izumi and Kanata Izumi
, and lives in her house in the
Satte-Shi prefecture near Tokyo
. - read more at
Konata.Izumi.at.Lucky.Star.Wikia
- To
view and print this model
you will need
Pepakura Viewer Free Version
(
link at the end of this post
).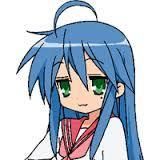 Lucky Star é um mangá yonkoma (tiras com 4 quadros)
criado por
Kagami Yoshimizu
. A tira tem sido disponibilizada pela
revista Kadokawa Shoten's Comptiq
desde
janeiro de 2004
. Tiras referentes foram publicadas em revistas como
Shōnen Ace
e outras. Como muitos
yonkomas
,
não possui um roteiro fixo
, e t
ipicamente foca na vida diária das personagens. Konata Izumi
é a
personagem principal e protagonista da série Lucky Star
, e é a líder da
equipe Lucky Star
. Ela é a
filha de Sojiro Izumi e Kanata Izumi
, e vive em sua casa na
prefeitura Satte-Shi, perto de Tóquio.
- leia mais em
Konata.Izumi.at.Lucky.Star.Wikia (em Inglês)
- Para
visualizar e imprimir este modelo
você precisará do
Pepakura Viewer Versão Gratuíta
(
link no final deste post
).
Link to download the model:
Lucky.Star.Konata.Izumi.Paper.Doll.In.Chibi.Style.by.Mr.Imossan
Link to Pepakura Viewer Free Version:
Pepakura.Viewer.Free.Version.Official.Page
More Anime and Mangá Paper Models related posts:
Furano Sisters Paper Dolls In Chibi Style - by Pontacerone
Hatsune Miku Paper Doll In Anime Style - by Xenoaisam - Boneca Em Estilo Anime
Mikuru Bunny Paper Doll In Anime Style - by JP Papercraft
Doraemon Paper Toy Anime Character - by Paper Replika