Even if you have no desire to build a Cardboard Pirate Ship
, check out this
very well done tutorial in two parts
, created by the people from
Wargaming.Info
, based on the
work of the great modeler Gary Chalk
. The
Scratchbuild guys
will love this tutorial,
I'm sure.
The templates are in 28mm scale
, but you can always
increase or decrease them when printing
to make them
more useful for your interests.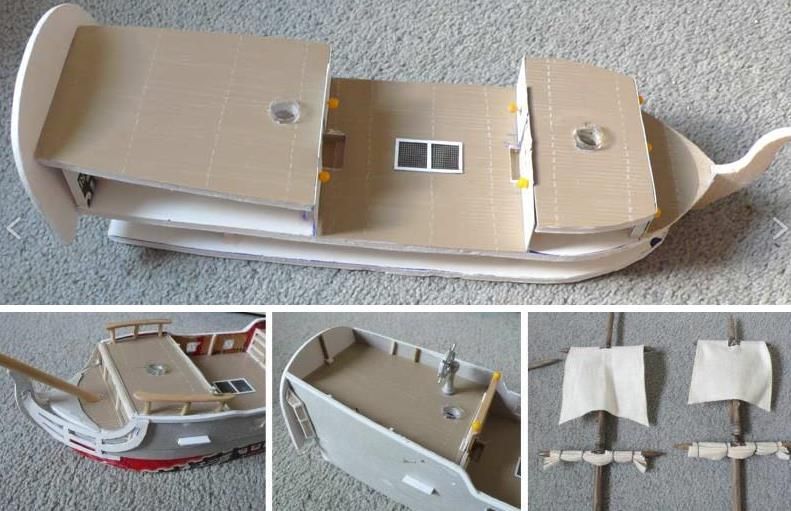 Mesmo que você não tenha nenhuma vontade de construir um Barco Pirata de Papelão
, dê uma olhada neste
tutorial super bem feito em duas partes
, do pessoal do site
Wargaming.Info
, baseado no
trabalho do modelista Gary Chalk
. O
pessoal do Scratchbuild vai adorar esse tutorial
, eu tenho certeza. Os
templates estão na escala 28 mm
, mas você sempre pode
aumentá-los ou diminuí-los na hora de imprimir
para torná-los
mais úteis para teus interesses.
Link to part 01:
How.To.Build.A.Pirate.Ship.In.28mm.Scale.Tutorial.With.Templates.by.Wargaming.Info.Part.01
Link to part 02:
How.To.Build.A.Pirate.Ship.In.28mm.Scale.Tutorial.With.Templates.by.Wargaming.Info.Part.02
More Cardboard Projects related posts:
Christmas Time - Cardboard Village - by The Martha Stewart Show
The Great Cardboard Castle Project - by Spoonful - O Grande Projeto Do Castelo De Papelão
Make Your Own Carboard Bed For Dolls - by Hellobee - Cama De Papelão para Bonecas
Wearable Iron Man Helmet In 1/1 Scale Made Out Of Cardboard - by Tomowo / 3D Paper