This beautiful and rare paper model
depicting a
Street at Cairo, in Egypt
, originally printed by
P.Orsoni Publishers
between the
end of the 19th century and early 20th century
, was
preserved
and is
now shared by Agence Eureka
,
French website
. You will find
many other old and rare paper models
there and I advise you to
make a visit without hurry
, because the
number of models is enormous.
-
In this model there is a missing part, the roof of the store to the right. I made two versions of this roof, using textures from the original model. The link to download it is just below, at the end of the post.
Este belo e raro modelo de papel
representando uma
Rua do Cairo, no Egito,
originalmente impresso pela
Editora P.Orsoni
entre o
final do século 19 e início do século 20
, foi
preservado
e é agora
compartilhado pelo site Agence Eureka.
Você encontrará
muitos outros modelos de papel antigos e raros por lá
e eu aconselho que
faça uma visita sem pressa
, pois o
número de modelos é enorme.
-
Neste modelo há uma parte faltando, o telhado da loja do lado direito. Eu fiz duas versões deste telhado, usando as texturas do próprio modelo original. O link para baixá-lo está logo abaixo, no final do post.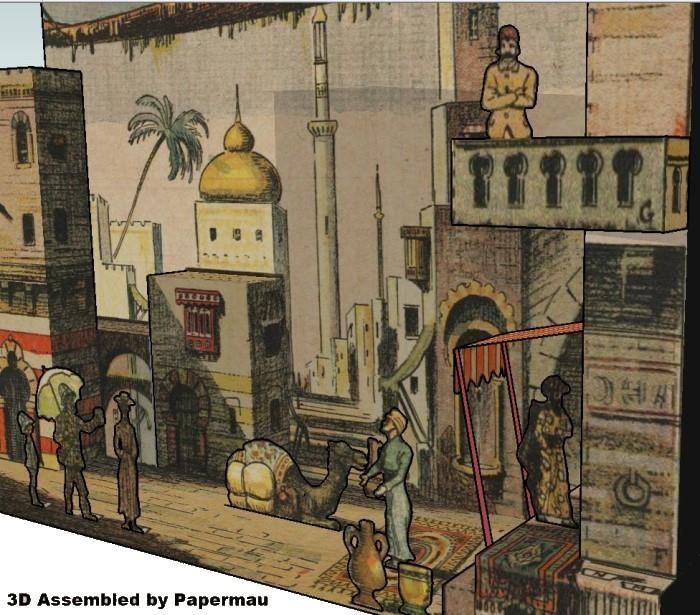 Link to sheet 01:
A.Street.At.Cairo.Egypt.Vintage.Diorama.Paper.Model.via.Agence.Eureka.Part.01
Link to sheet 01:
A.Street.Cairo.In.Egypt.Vintage.Diorama.Paper.Model.via.Agence.Eureka.Part.02
Link to missing part:
A.Street.At.Cairo.In.Egypt.Vintage.Diorama.Paper.Model.Missing.Part
More Vintage Paper Models related posts:
1940`s Vintage Cardboard Gas Station - by Toy Connect
London, Midland & Scottish Railway Vintage Paper Model - by Tuck DB
The Fairy Playhouse Theater Paper Model - by Frances Delehanty - via Hedgehog Studio
Restored Vintage Halloween Dress Up Paper Doll - by Papermau