Hayabusa 2
is an
asteroid sample return mission
operated by the
Japanese space agency, JAXA
. It follows on from
Hayabusa
and addresses
weak points learned from that mission.
Initially, launch was planned for
30 November 2014 (13:23 local time)
, but was
delayed to 3 December 2014 04:22 UTC (4 December 2014 13:22:04 local time).
The target is
asteroid (162173) 1999 JU3. Hayabusa 2
is expected to
arrive at the target in July 2018
, survey the asteroid
for a year and a half
, depart in
December 2019,
and
return to Earth in December 2020.
- read more at
Link:
Hayabusa.2.at.Wikipedia
- This
paper model
is offered by
Jaxa, a Japanese website
and is
perfect for Space Dioramas or School Works.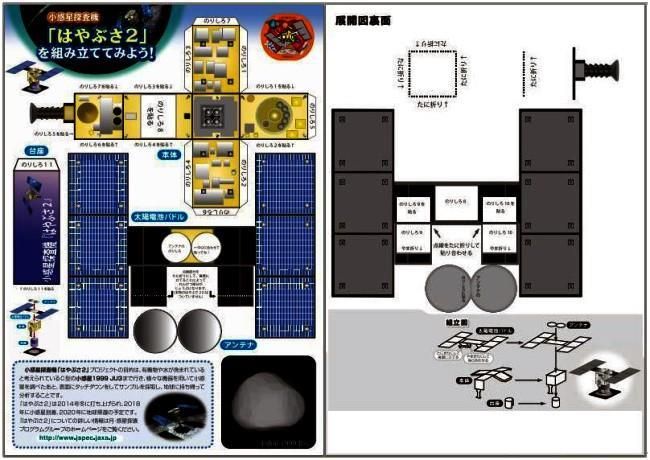 Hayabusa 2
é uma
espaçonave robótica da Agência Espacial do Japão, JAXA
, com a missão de
recolher amostras de material do asteroide (162173) 1999 JU3
e
enviá-las à Terra para análise
. A sonda é a sucessora da
Hayabusa.
O seu lançamento ocorreu no
dia 3 de dezembro de 2014
a partir do
Centro Espacial de Tanegashima
por um
foguete H-IIA.5
É esperado que a
Hayabusa 2 alcance o alvo em julho de 2018
, pesquise o asteroide e
colete amostras por um ano e meio
,
iniciando o
retorno para a Terra em dezembro de 2019
, e chegando à Terra em
dezembro de 2020.
- leia mais em
Link:
Hayabusa.2.na.Wikipedia
- Este
modelo de papel
é oferecido por
Jaxa, um site japonês
e é
perfeito paraDioramas Espaciais e Trabalhos Escolares.
Link:
Hayabusa.2.Asteroid.Sample.Return.Mission.Paper.Model.by.Jaxa
More Space Paper Models related posts:
Astronaut Paper Model - by Julius Perdana - Paper Replika
Apollo Lunar Module - by U-Don`s Factory - Módulo Lunar Apollo
USA`s Orion Spacecraft In Several Configurations - by Pe2tr
Mars Polar Lander In 1/24 Scale - by Nasa.Gov