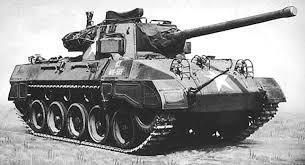 The Real Thing
Here is the WW2`s M18 76mm Gun Motor Carriage Hellcat
, in a
perfect paper version in 1/50 scale
offered by
World of Tanks
,
Russian
website.
The M18 Hellcat
(also known as the
M18 Gun Motor Carriage
) was an
American tank destroyer of World War II,
used in the I
talian and European theatres.
It was the
fastest armored vehicle
until the
turbine powered M1 Abrams tank appeared
decades later. The speed was attained by
keeping armor to a minimum
, no more than
one inch thick
, and by
powering the relatively small vehicle with a radial engine originally designed for aircraft usage
. The
Hellcat
, along with the
M10 Wolverine
and
M36 tank destroyer
, provided
American and Allied forces
with a
respectable mobile anti-tank capability
against the newer
German
armored types. Despite being armed with an
only partially effective 76 mm cannon
, it performed exceptionally well and even outperformed much more heavily armored vehicles with much larger weapons, such as the
American 90mm M36
or the
British Ordnance QF 17-pounder armed Sherman Firefly
. The
Hellcat holds the record
for
most effective American tank destroyer during World War II.
It has a
higher kill to loss ratio
than any tank or
tank destroyer
fielded by
American forces
in
World War II.
- read more at
Hellcat.at.Wikipedia

Este é o Tanque M18 Hellcat,
em uma
perfeita versão em papel na escala 1/50,
oferecido pelo site
russo World of Tanks
. O
M18 Hellcat
(também conhecido como
M18 Gun Motor Carriage
) foi um
tanque destroyer norte-americano da Segunda Guerra Mundial
, usado em
território europeu
. Era
o veículo blindado mais rápido até que o tanque M1 Abrams apareceu
, décadas mais tarde. Construído pela
Buick
, foi apelidado por ela de
Hellcat (Gato do Inferno)
. Foi o
veículo blindado de esteira mais rápido da Segunda Guerra
, passando dos
97 km/h (60 mph)
. A tripulação do
Hellcat
usava a velocidade como
defesa
, já que
sua blindagem era muito fina
. Muitos
tanques Panther e Tiger foram destruídos
pois suas torres não conseguiam acompanhar o avanço do
Hellcat.
- leia mais em
Hellcat.na.Wikipedia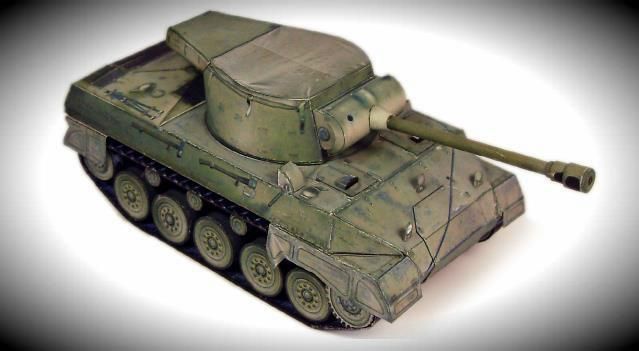 Link:
WW2`s.M18.76mm.Gun.Motor.Carriage.Hellcat.Paper.Model.by.World.Of.Tanks
More WW2`s Military Vehicles related posts:
Jeep SAS - Desert Rats - Paper Model - by Toni Mauricio & Dark Vador
WW2`s Soviet Heavy Tank IS-2 Paper Model - by X-Diem
WW2`s Tank M3A Honey Paper Model In 1/48 Scale - by Konradus
Scammell 6X6 Gun Tractor Paper Model In 1/72 Scale - by Dark Vador via Le Forum En Papier