Created by North American designer Steven Marshall
, from
Homespun Magixx
website, this is the
papercraft version
of the
U.S.S. Discovery One spaceship
. The
United States Spacecraft Discovery One
is a
fictional spaceship
that appears in The
Space Odyssey series
, including the motion pictures
2001: A Space Odyssey and 2010: Odyssey Two.
Discovery One
is a
nuclear-powered interplanetary spaceship
operated in part by the
HAL 9000 (Heuristic ALgorithmic computer) artificial intelligence.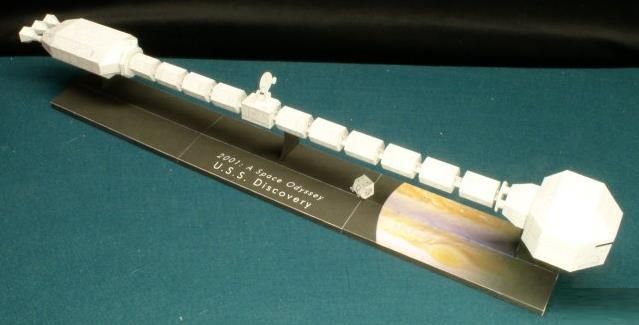 Criada pelo designer norte-americano Steven Marshall
, do site
Homespun Magixx
, esta é a
versão em papel
da
nave espacial U.S.S. Discovery One
.
A U.S.S. Discovery One
é uma das
naves espaciais fictícias
que aparecem na série
Space Odyssey
, incluindo o
filme 2001: Uma Odisséia no Espaço e 2010: Odyssey Two.
A
Discovery
é uma
nave interplanetária de propulsão nuclear
operada em parte por
HAL 9000, o computador central que enlouquece no primeiro filme e tenta matar todo mundo.

Link:
2001.A.Space.Odyssey.U.S.S.Discovery.Spaceship.Paper.Model.by.Homespun.Magixx
More Sci-Fi Paper Models related posts:
Dune`s Spice Harvester Paper Model - by The 4ce
Star Trek`s Starfleet Paper Models - by Rawen
Latitude Zero Black Shark Spaceship - by Godzillu
Sci-Fi Series Stargate M.A.L.P. Vehicle - by Laul