The Real Thing
This paper model version of the ZIS-42 Halftrack in 1/50 Scale
is offered by
Vojenska Technika, Slovak website
.
The ZIS-42 was a deriavation of the ZIS-5
, a
4x2 Soviet truck produced by Moscow ZIS factory
from
October 1933 on
. It was an
copy of the American Autocar Company truck
.
During the WW2 the ZIS-5 was used on all fronts
, where it was
greatly appreciated for its remarkably simple and reliable construction
. Apart for
cargo duties
, the
ZIS-5 was used as a light artillery tractor
and for
troops transportation (25 soldiers could seat in five benches placed in the rear body).
ZIS-5
served also as base for many
special trucks, like refuellers, field workshops, ambulances, portee guns or AA platforms.
The
Zis-42 Halftrack
was produced
between 1942 and 1944
.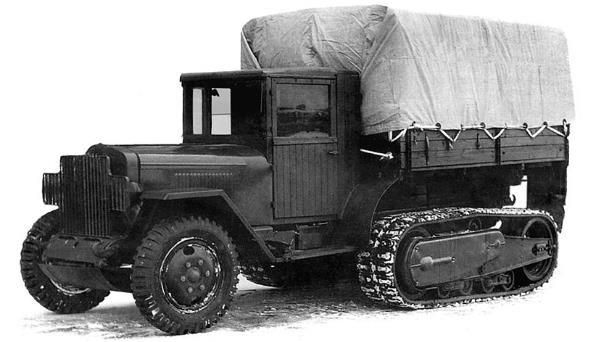 Esta versão em papel do ZIS-42 Halftrack na escala 1/50
é oferecido pelo
site eslovaco Vojenska Technika
.
O ZIS-42 era um derivado do ZIS-5
, um
caminhão 4x2 soviético produzido pela Moscow ZIS Factory à partir de 1933
. Durante a
2ª Guerra Mundial o ZIS-5
foi utilizado em
todas as frentes
, onde era apreciado por sua
construção extremamente simples e confiável
. Além de
transportar cargas, o ZIS-5
foi usado como
trator de artilharia leve e para transporte de tropas
(
ele comportava até 25 soldados em sua caçamba
). O
ZIS-5 serviu também como base para muitos caminhões especiais
, como
unidades de reabastecimento, oficinas de campo, ambulâncias e plataforma para canhões e metralhadoras anti-aéreas.
O
ZIS-42
foi produzido entre os anos de
1942 e 1944.
Link:
ZIS.42.Halftrack.Truck.Paper.Model.In.1/50.Scale.by.Vojenska.Technika
More Paper Models of WW2 Military Vehicles related posts:
Jeep SAS - Desert Rats - Paper Model - by Toni Mauricio & Dark Vador
1/72 Scale Military Vehicles - by Yoshidom - Veículos Militares
WW2`s German Tank Tiger I - by Sega - Tanque Alemão Tiger I
WW2 Truck AEC Matador Ambulance 1/100 Scale - by Dark Tower