Japanese designer Hyakunin
always presents us with great paper
versions of masks from pop culture icons
, always in
1/50 scale.
This time he decided to create
a model in the range 1/1
, that is the
perfect scale for Cosplayers
. He chose a
classic Stormtrooper helmet,
from
Star Wars saga
. The model takes up
ten pages
, and believe me, it
is not hard to assemble
. You will also find the
same model in traditional 1/50 scale.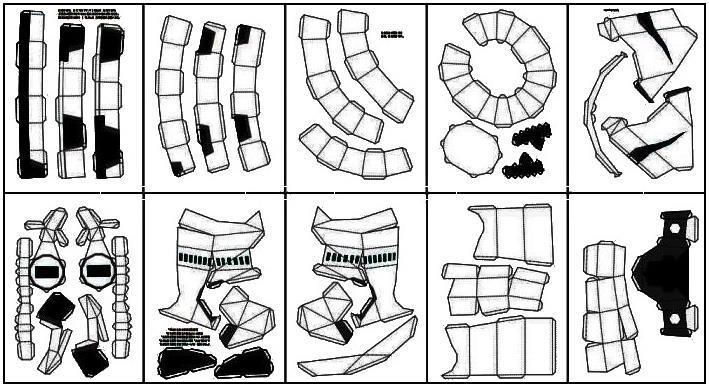 O designer japonês Hyakunin
sempre nos presenteia com ótimas versões em papel de
máscaras de ícones da cultura pop,
sempre na
escala 1/50.
Desta vez ele resolveu criar um modelo na
escala 1/1
, ou seja na
escala perfeita para Cosplayers
. Ele escolheu um
clássico capacete Stormtrooper,
da
saga Star Wars
. O modelo ocupa
dez páginas
, e acreditem,
não é difícil de montar
. Você também encontrará o mesmo modelo na
tradicional escala 1/50.
Link:
Star.Wars.Classic.Stormtrooper.Helmet.Paper.Model.In.1/1.Scale.by.Hyakunin
More Sci-Fi Paper Models related posts:
Star Trek - Terran Empire Knife In 1 /1 Scale - by Tektonten
Star Wars` Life-Size Luke Skywalker's Lightsaber - by Yudhie Hatmadji
Monolith Paper Model From 2001 A Space Odissey - by Godzillu
Spindrift Space Ship Paper Model - by Gary Pilsworth - via Dpileggi