My friend, Mexican modeler Joakin Morales
built the
Simple House and the Simple Church paper models
and kindly
sent me some photos of his nice work
. He used the
blank templates
and
painted them by hand.
I am
doubly happy because two of my models were assembled by a friend modeler
and also
because I had not seen these models assembled in the real world.
I just had
assembled them virtually
, using
Sketchup
. -
"Many thanks, Joakin, for the nice work and for the photos! Greetings from Brazil to Mexico!" - Mauther
- If you want to build
your own Simple House And Church Paper Models
, the
link to download them
are right below, at the
end of this post.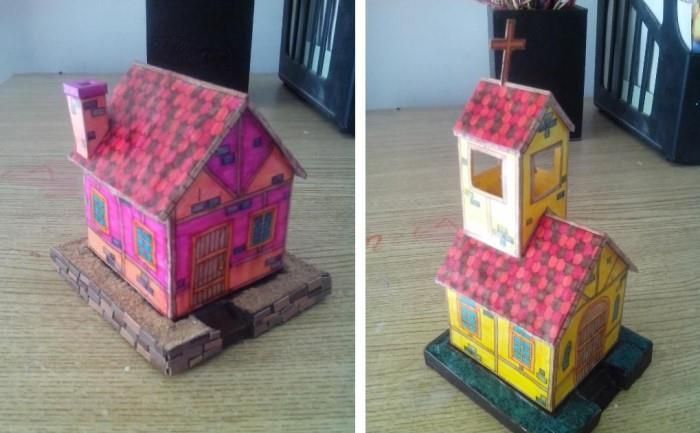 Meu amigo, o modelista mexicano Joakin Morales
montou os
modelos de papel da Casinha e da Igreja
e gentilmente
enviou-me algumas fotos do seu bom trabalho.
Ele usou os
modelos em branco
e
pintou-os à mão.
Eu fiquei
duplamente contente porque dois de meus modelos foram montados por uma amigo modelista
e também porque e
u não havia visto estes modelos montados no mundo real
. Eu apenas os
havia montado em versão virtual, em 3D
, usando o
Sketchup.
-
"Muito obrigado, Joakin, pelo belo trabalho e pelas fotos! Saudações do Brasil ao México!" - Mauther
- Se você quiser montar a Casinha e a Igrejinha, o link para baixá-las está logo abaixo, no final deste post.
Link to the house:
A Simple House Paper Model For Kids - by Papermau - Download Now!
Link to the church:
A Simple Church Paper Model - by Papermau - Download Now!
More Papermau Paper Models Assembled by Friends related posts:
Van Gogh`s Yellow House - Assembled by Kevin WS
Vintage Gas Station And Joe`s Garage Built by NWRR
Brazilian Abandoned House - Assembled by Bosco
Petra Treasure and Old "Sobrado" - Assembled by Beatriz Soffredi