Sayonara, Zetsubou-Sensei
, literally
"Goodbye, Mr. Despair"
is a
Japanese mangá
by
Koji Kumeta
, serialized in
Weekly Shōnen Magazine
. It is a
comedy about a teacher who takes all aspects of life, word, and culture
in the
most negative light possible
. It
satirizes politics, media, and Japanese society
. In
2007
, the manga received the
31st Kodansha Manga Award
in the
shōnen
category. Shaft produced
three anime television series
and
two sets of three original video animation
episodes between
2007 and 2012.
This diorama was
preserved and is shared by Tsote.
Sayonara, Zetsubou-Sensei
é um
mangá
criado pelo
mangaká Koji Kumeta
e publicada na
Weekly Shonen Magazine desde 2005
. Recebeu, em
julho de 2007
, uma a
daptação para anime com 12 episódios,
seguindo logo após de
mais duas temporadas e três OVAs.
Sayonara, Zetsubou-Sensei
conta a história de um
professor pessimista
, que vê em
qualquer problema do dia-a-dia uma desculpa para cometer suicídio,
sempre dentro da sala de aula, onde
cada aluno tem uma personalidade única.
Este
diorama
de papel foi
preservado e é compartilhado por Tsote.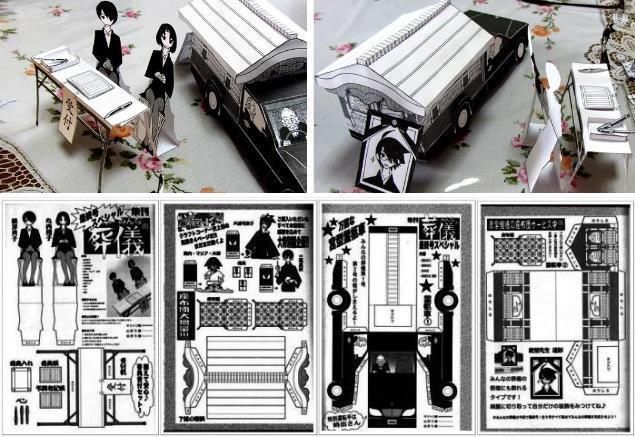 Link:
Sayonara.Zetsubou.Sensei.Diorama.Papercraft.Preserved.And.Shared.by.Tsote
More Anime and Mangá Paper Models related posts:
Totoro - Nekobasu Cat Bus Paper Model - by Podragon - via DeviantArt
K-On - Hokago Tea Time Paper Dolls - by Borghie - via DeviantArt
Ami Kawashima Paper Doll In Anime Style - by JP Papercraft
Gozuko Paper Doll In Anime Style - by Moekami - Boneca Em Estilo Anime