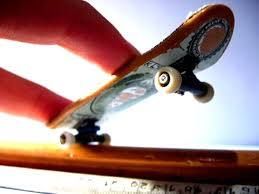 How about make your own Finger Skate Park Papercraft?
This cool project was
created by Zupi, a Brazilian website
. According to
Wikipedia,
a
fingerboard is a working replica (about 1/8 scaled) of a skateboard
that a person "
rides
" by
replicating skateboarding maneuvers with their hand
. It can also be referred to as a
fingerskate or fingerskateboard
. The device itself is a
scaled-down skateboard complete with moving wheels, graphics and trucks.
A
fingerboard
is commonly
around 10 centimeters long
, and can have
a variety of widths going from 29 to 33mm (or more)
.
Skateboarding tricks may be performed using fingers instead of feet.
Tricks done on a
fingerboard
are
inspired by tricks done on real skateboards. Cam Fox Bryant
is widely
credited
as making the
first fingerboard
, and his skit in
Powell-Peralta's "Future Primitive" video
brought
fingerboarding to the skateboarders of the world in the mid-1980s
. - To this model
works properly
you need to
print all sheets in A3 format.
Que tal fazer o seu próprio Finger Skate Park Papercraft?
Este projeto bem original foi
criado pelo Zupi, um site brasileiro
. Segundo a
Wikipedia,
um
fingerboard é uma réplica (escala aproximada de 1/8) de um skate,
que uma pessoa "monta",
imitando manobras de skate com a mão
. Ele também é chamado de
FingerSkate ou Fingerskateboard
. O
fingerskate é um skate completo em escala reduzida
, com
rodas, gráficos e eixos funcionais
. Ele tem
cerca de 10 centímetros de comprimento
, e pode ter uma
variedade de larguras
que vão de
29 a 33 milímetros
(ou mais).
Manobras de skate
podem ser realizadas
usando os dedos em vez dos pés
.
Truques feitos em um fingerboard são inspirados em manobras feitas em skates reais
.
Cam Fox Bryant
é amplamente
creditado
como
o criador do fingerboard
, e sua
performance no vídeo da Powell-Peralta
,
"Future Primitive"
,
apresentava o Fingerboarding para os skatistas do mundo todo
, em
meados dos anos 1980
. - Para este modelo funcionar corretamente você precisa
imprimir todas as páginas em formato A3.
Direct link to the model:
Build.Your.Own.Fingerboard.Skate.Park.Papercraft.by.Smuzi
More Unusual Paper Models related posts:
Bert Simons` Self Portrait Mask Paper Model - by Bert Simons
World Pinhole Camera Day Paper Model - by Corbis Readymech
Smith & Wesson WM 19 Revolver Paper Model - by Kamikuzu
Roast Chiken Realistic Paper Model - by Wombat - Frango Assado De Papel