Model Assenbled and Photo by Einohpmys - via DeviantArt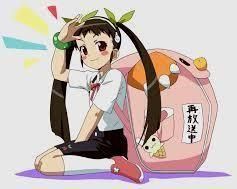 From Japanese anime and mangá Bakemonogatari,
this is
Mayoi Hachikuji,
a
ghost of a fifth-grade elementary school girl
who was
killed in a traffic accident
while trying to reach her
mother's home
. Since her death,
she has been haunting people
who possess an urge to
avoid going home as an oddity.
This
very well done paper model version
was created by
Japanese designer SSN
, from
Seisaku Diary
website.
Do anime e mangá japonês Bakemonogatari
, esta é
Mayoi Hachikuji
, a
fantasma de uma menina da escola elementar
que foi
morta em um acidente de trânsito
durante a tentativa de chegar
à casa de sua mãe
. Desde sua morte, ela foi assombrando
as pessoas que ficam enrolando para ir para casa.
Esta
versão em papel muito bem feita
foi criada pelo
designer japonês SSN,
do site
Seisaku Diary.
Direct link to standing version:
Mayoi.Hachikuji.Paper.Doll.by.Seisaku.Diary.Standing.Version.Download
Direct link to crouching version:
Mayoi.Hachikuji.Paper.Doll.by.Seisaku.Diary.Crouching.Version.Download
Link to main page:
Bakemonogatari.Mayoi.Hachikuji.Paper.Doll.In.Chibi.Style.by.Seisaku.Diary.Main.Page
More Paper Models from Animes and Mangás related posts:
Ami Kawashima Paper Doll In Anime Style - by JP Papercraft
My Neighbor Totoro - Studio Glibli Characters Paper Toys - by Bunzodo
Inuyasha - Sesshomaru Paper Model - by Ace Crafts
Sayaka Paper Doll In Anime Style - by Seisaku Diary