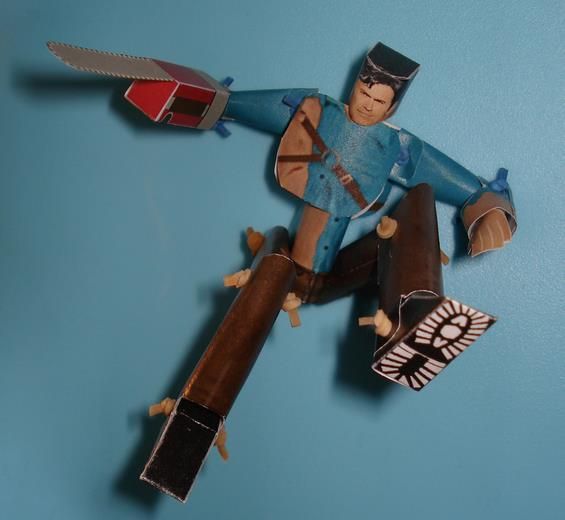 The "Real" Ash (Bruce Campbell) in Action
The Evil Dead is a 1981 American horror film
written and directed by
Sam Raimi
and executive produced by
Raimi and Bruce Campbell
, who also stars alongside
Ellen Sandweiss and Betsy Baker.
The Evil Dead
focuses on
five college students vacationing in an isolated cabin in a remote wooded area
. After they find an
audiotape that releases a legion of demons and spirits
, members of the group suffer from
demonic possession, leading to increasingly gory mayhem.
The film has
spawned a media franchise
, beginning with
two sequels written and directed by Raimi, Evil Dead II (1987) and Army of Darkness (1992)
, as well as
video games and comic books
. The film's protagonist
Ash Williams (Campbell)
is regarded as a
cult icon.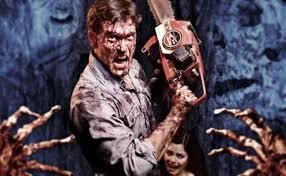 The Evil Dead
(
no Brasil, Uma Noite Alucinante: A Morte do Demônio; em Portugal, A Noite dos Mortos-Vivos
) é um
filme norte-americano de 1981
escrito e dirigido por
Sam Raimi
. O filme teve duas sequências:
Evil Dead II (1987)
e
Army of Darkness (1992)
. No filme,
cinco jovens vão passar um fim de semana em uma cabana isolada nos bosques de Tennessee
. Os jovens têm
estranhas experiências
, obviamente causadas pela presença ali do
Livro dos Mortos (o Necronomicon Ex Mortis, encadernado em pele humana e escrito em sangue)
. Logo depois encontram um
gravador
. Dentro do mesmo
a fita que foi gravada pelo dono da cabana (um arqueólogo)
, contém a
tradução de algumas passagens do livro
. Ao ser reproduzida pelos estudantes,
desperta os espíritos que estavam adormecidos e que habitam o bosque
. Os espíritos começam a possuir os jovens um por um. -
Wikipedia
Link:
The.Evil.Dead.Ash.Williams.Paper.Toy.by.Paper.Robots.1999
More Paper Models Characters from Horror Movies related posts:
Halloween Special - The Exorcist - The Possessed Girl Paper Toy - by Pop Quem
Halloween Special - Chucky And Jason Paper Toys - by DiKids
Halloween Special - Ghost Face Paper Model - by Paper Juke
Halloween Special - Great Horror Movie Villains Paper Dolls: Psychos And Slashers - by Dover