This very detailed paper model of a real building
, the
Civico-Militar Bakery
, was created by
Spanish designer Pedro Hernández
, from
Maquetas & Modelos
website.
Pedro
kept the
architectural fidelity of real building
, in its
dimensions and details
. - The
Military Civic Bakery
was located in the
Plaza de San Lazaro in Orense
, opposite the building of the
Civil Government
and was
built in 1904
. The promoter of this industry was
D. Thomas Fabrega,
which together with other investors constituted a
cooperative to build this bakery
. - You can choose between
two scales: HO (1/87 scale) and N (1/160 scale).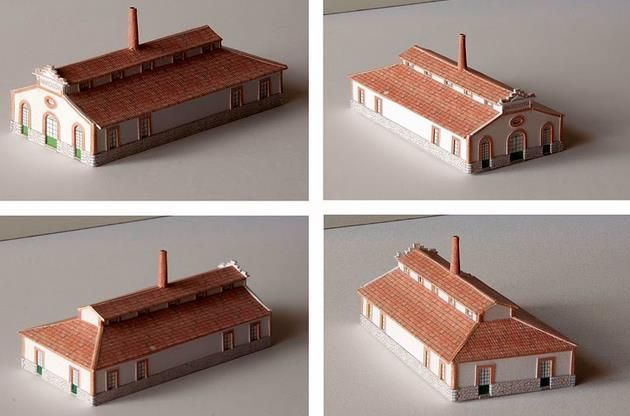 Este modelo de papel bem detalhado da Fábrica de Pães Civico-Militar
, foi criado pelo
designer espanhol Pedro Hernández, do site Maquetas & Modelos.
Pedro
manteve a
fidelidade arquitetônica do prédio real,
em suas
dimensões e detalhes
. - A
Panificadora Civico-Militar
situava-se na
Plaza de San Lazaro em Orense
, em frente ao edifício do
Governo Civil
e foi
construída em 1904
. O promotor desta indústria foi
D. Thomas Fabrega,
que, juntamente com outros investidores orensanos constituiu uma
cooperativa para construir esta padaria
. - Você pode escolher entre
duas escalas: HO (escala 1/87) e N (escala 1/160).
Link:
The.Civico.Militar.Bakery.Paper.Model.by.Pedro.Hernández
More Paper Models of European Architecture and Buildings related posts:
European Tower Bridge - by Papermau - Torre Sobre Ponte Européia
European Architecture - by Old Fred - Arquitetura Européia
Medieval Church - by Papermau - Igreja Medieval
Tudor-Cottage - by Sirius Art Works - Chalé Vitoriano