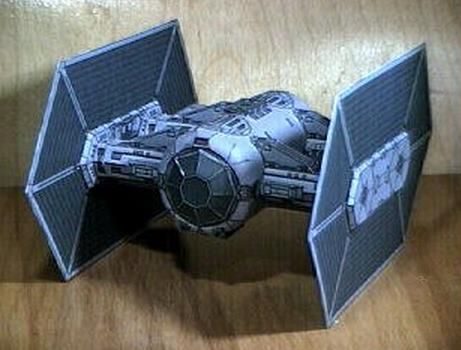 This cool paper model of the TIE Fighter Interceptor
was created by
North American designer Conrad Mitchell
and originally posted at
J. Leslie 48 website
.
TIE fighters are fictional starfighters
in the
Star Wars universe
. Propelled by
Twin Ion Engines (hence the TIE acronym)
,
TIE fighters
are depicted as
fast, fragile starfighters
produced by
Sienar Fleet Systems for the Galactic Empire.
TIE fighters and other TIE craft
appear in the
original Star Wars trilogy—Episode IV: A New Hope (1977), Episode V: The Empire Strikes Back (1980), and Episode VI: Return of the Jedi (1983)—and throughout the Star Wars Expanded Universe.

Este modelo de papel bem show de um TIE Fighter Interceptor
foi criado pelo
designer norte-americano Conrad Mitchell
e originalmente postado no site
J. Leslie 48
.
TIE fighters são caças estelares
do universo de
Star Wars
. Impulsionados por
dois motores de íons
, os caças são
muito rápidos, mas também muito frágeis
e produzidos pela
Sienar Fleet Systems para o Império Galáctico
. As
TIE fighters
e outras naves TIE aparecem na
trilogia original de Star Wars
e também nos filmes
Episódio IV: Uma Nova Esperança (1977), Episódio V: O Império Contra-Ataca (1980), e Episódio VI: O Retorno do Jedi (1983)
- e também em todo o
Universo Expandido de Star Wars.
Link to download the model:
Star.Wars.TIE.Fighter.Interceptor.Paper.Model.by.Conrad.Mitchell
Link to J.Leslie 48 website main page:
J.Leslie.Space.And.Sci.Fi.Paper.Models.Related.Posts.Main.Page
More Star Wars Paper Models related posts:
Star Wars` Imperial AT-AT Paper Model - by Sirius Replicas
Star Wars`Mini R2D2 Paper Robot - by Funny Character Cafe
Star Wars - Clone Cold Assault Trooper - by Noturno Sukhoi
Darth Vader / Anakin Skywalker Paper Toy - by Gus Santome