According to my daughter Malú,
Chopper does not know to hide very well.
This perfect paper version of Tony Tony Chopper
was created by
Italian designer Bruno, aka Lord Bruco
. In
One Piece, Japanese anime, Tony Tony Chopper
is the
doctor of the Straw Hat Pirates
.
Chopper
is a
reindeer that ate a Devil Fruit called the Hito Hito no Mi
. He came from
Drum Island
, which makes him the only member of the
Straw Hat Pirates
who
was born on the Grand Line
. He is the
sixth member of the crew and the fifth to join Luffy,
as well as being
the youngest member on board
. He is always
mistaken for the pet of the crew.
-
You will find the model in two formats
:
PDF and PDO (Pepakura)
, so you can
print the model with the PDF format and use the PDO format as guide,
because it
can be visualized in 3D.
If you don`t have
Pepakura Viewer Free Version
yet, the
link to download
is at the
end of this post.
Esta perfeita versão em papel do Tony Tony Chopper
foi criada pelo
designer italiano Bruno, aka Lord Bruco
. No
anime japonês One Piece, Tony Tony Chopper
é o
médico dos Straw Hat Pirates
.
Chopper
é uma
rena que comeu uma fruta do diabo chamada Hito Hito no Mi
. Ele veio da
Ilha Drum
, o que faz dele o único membro dos
Straw Hat Pirates
que
nasceu na Grande Linha
. Ele é o
sexto membro da tripulação e o quinto a se juntar ao Luffy
, além de ser
o membro mais jovem a bordo
. Ele sempre é
confundido com o animal de estimação da tripulação
. -
Você encontrará o modelo em dois formatos: PDF e PDO (Pepakura),
então você pode usar o
PDF para imprimir as peças e o PDO como guia de montagem
, já que com ele você pode
visualizar o modelo em 3D.
Se você ainda não tem o programa
Pepakura Viewer Versão Gratuíta,
o
link para baixá-lo
se encontra no
final deste post.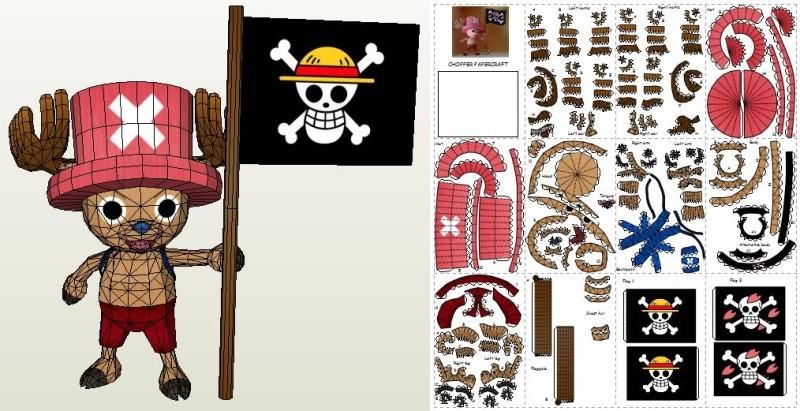 Link to download the model:
One.Piece.Tony.Tony.Chopper.Paper.Model.by.Lord.Bruco
Link to Pepakura Viewer Free Version:
Pepakura.Viewer.Free.Version.Official.Page
More Anime and Mangá Paper Models related posts:
Akemi Homura Paper Doll In Anime Style - by Kujira
Haruka Paper Doll In Anime Style - by S.V. Ameblo
Pikachu Papercraft In 1 / 1 Scale - by Paper Juke
Hatune Miku Paper Doll Anime Style - by Paper Works