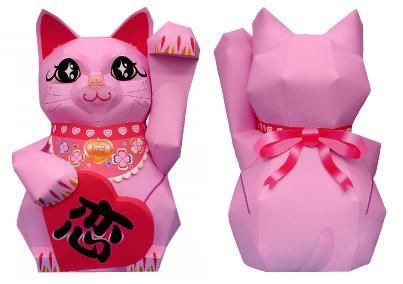 A Classic Maneki-Neko
This is an interesting paper model
that you
find only
in the
Japanese version of Canon website
. Created by
designer Ayumu Aaito
, this is a
Maneki-Neko, or Lucky Cat
, and according to
Japanese tradition
, it is a
common figurine (lucky charm, talisman)
which is often
believed to bring good luck to the owner
. In modern times, they are
usually made of ceramic or plastic
. The figurine depicts a
cat (traditionally a calico Japanese Bobtail)
beckoning with an upright paw
, and is usually
displayed—often at the entrance—of shops, restaurants, pachinko parlors, and other businesses.
Some of the sculptures are
electric or battery-powered and have a slow-moving paw beckoning
. The
maneki-neko
is sometimes also called the
welcoming cat, lucky cat, money cat, happy cat, beckoning cat, or fortune cat in English.
M
aneki-neko
come in
different colors, styles and degrees of ornateness.
Common colors are
white, black, gold and sometimes red.
In addition to ceramic figurines,
maneki-neko
can be found as
keychains, piggy banks, air fresheners, house-plant pots, and miscellaneous ornaments, as well as large statues.
Even though
maneki-neko
is a J
apanese term
and
maneki-neko
are
Japanese figurines
, they are sometimes
incorrectly called the "Chinese lucky cat"
and are increasingly
popular among Chinese merchants.
This
pink Maneki-Neko
, in particular, was
created to attract luck in love.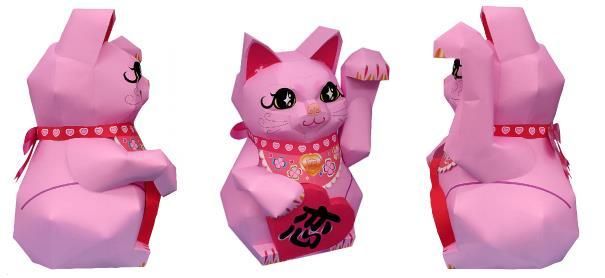 A Collection of Lucky Cats
Este é um modelo de papel bem interessante
que você
só encontra
na
versão japonesa do site da Canon.
Criado pelo
designer Ayumu Aaito
, este é o
Maneki Neko ou Gato da Sorte
, e de acordo com a
cultura japonesa
, ele é conhecido como
Gato da Sorte, Gato do Dinheiro ou da Boa Sorte
é uma
escultura asiática comum
, na maior parte das vezes
feita em cerâmica
, que se crê
trazer boa sorte ao seu dono
. A escultura mostra
um gato (tradicionalmente um Bobtail Japonês) a acenar com uma pata levantada
, e é muitas vezes colocado em
lojas, restaurantes, salas de Pachinko e de outros negócios
, quase sempre à entrada. Algumas das figuras são
elétricas, funcionam a pilhas ou são alimentados por energia solar
, e efetuam
um pequeno movimento de pata, como a acenar
. No design das figuras,
a pata direita levantada supostamente atrai dinheiro
, enquanto
uma pata esquerda levantada atrai clientes
. Os
Maneki-Neko
pod3em ser de
cores, estilos e graus de ornamentação diferentes
. Além das figuras de
porcelana
, os
Maneki-Neko
podem ter a forma de
chaveiros, cofrinhos, aromatizadores de ambiente e outros ornamentos variados.
Algumas vezes são
chamados erroneamente de Gatos Chineses da Sorte
, por serem
muito populares entre os comerciantes chineses.
- Este
Maneki-Neko cor de rosa
, em especial, foi
feito para atrair sorte no amor.
Link:
Maneki.Neko.Luck.In.Love.Pink.Cat.Paper.Model.by.Ayumu.Aaito
More Lucky Itens Paper Models related posts:
Chinese Dragon Papercraft - by Tina Kraus - Dragão Chinês
Takarabune Ship Paper Model - by Niku Mansei - Barco Fantasma Da Sorte
Kadomatsu Good Luck Amulet - by Yamaha - Amuleto Asiático
Calendar And Japanese Lucky Itens Paper Models - by Kirin