Created by Japanese designer Nobi,
this is the
paper doll version of Rumia
, from
Embodiment of Scarlet Devil
videogame.
Rumia is a youkai
with the ability of
manipulating the darkness
, and is one of the
few youkai
that doesn't seem to belong to any particular species. She first
appeared in Embodiment of Scarlet Devil as the first stage boss and midboss
, then later in
Shoot the Bullet
as a stage 1 target and as one of the many background characters in
Hopeless Masquerade.

Some images of the very detailed construction report made by Nobi
Criada pelo designer japonês Nobi
, esta é
Rumia
, personagem do game
Embodiment of Scarlet Devil
.
Rumia é um youkai
com a capacidade de
manipular a escuridão
, e é um dos poucos
youkais
que não parecem pertencem a uma espécie particular. Ela
apareceu pela primeira vez no game Embodiment of Scarlet Devil,
como o
primeiro chefe e mini-chefe de uma das fases do jogo
e também como um dos muitos personagens de fundo em
Masquerade Hopeless.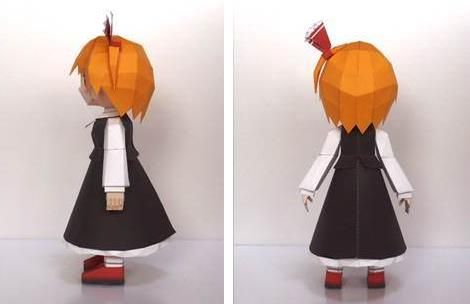 Link:
Embodiment.Of.Scarlet.Devil.Rumia.Paper.Doll.by.Nobi
More Paper Models from Videogames related posts:
Donkey Kong Arcade Game Diorama - by Linkdude101 - via Nintendo Papercraft
Portal 2 - P-Body Robot Paper Model - by Digitprop
3D 8-Bit Mario Papercraft - by Squeezycheesecake - via Ultimate Papercraft
Cave Story - Quote Little Robot Paper Toy - by Paperlegend