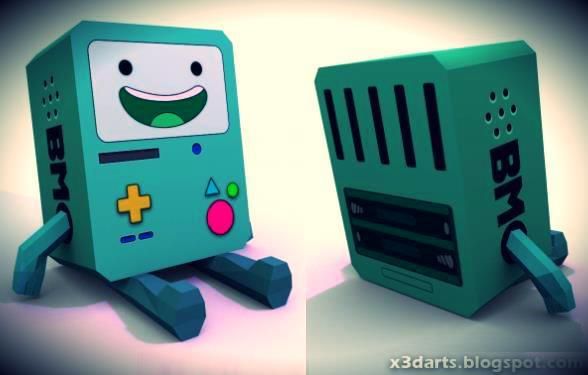 In Adventure Time
,
BMO is the portable video game belonging to Fin
. Now you can have a
BMO papercraft just for you
, thanks to
designer X3Darts.
To
view and print this model
you will need
Pepakura Viewer Free Version
(
link at the end of this post
).
Na série de animação Hora de Aventura, BMO é o videogame portátil pertencente ao Fin
. Agora você pode ter um
papercraft do BMO só para você
, graças ao
designer X3Darts
. Para
visualizar e imprimir este modelo
você precisará do
Pepakura Viewer Versão Gratuíta
(
link no final deste post
).
Link to download the model:
Adventure.Time.BMO.The.Videogame.Paper.Toy.by.X3Darts
Link to Pepakura Viewer Free Version:
Pepakura.Viewer.Free.Version.Official.Page
More Paper Toys related posts:
Halloween Special - Sliding Puzzle Papercraft - by Canon - Qebra-Cabeças Deslizante
A Fun School Project - Build A Paper Pyramid - by Squidoo - Projeto Escolar - Pirâmide
Slotted Building Discs Papercraft - by Made by Joel - Discos Lúdicos
Papercraft Alphabet In 3D - by Digitprop - Alfabeto Em Papel