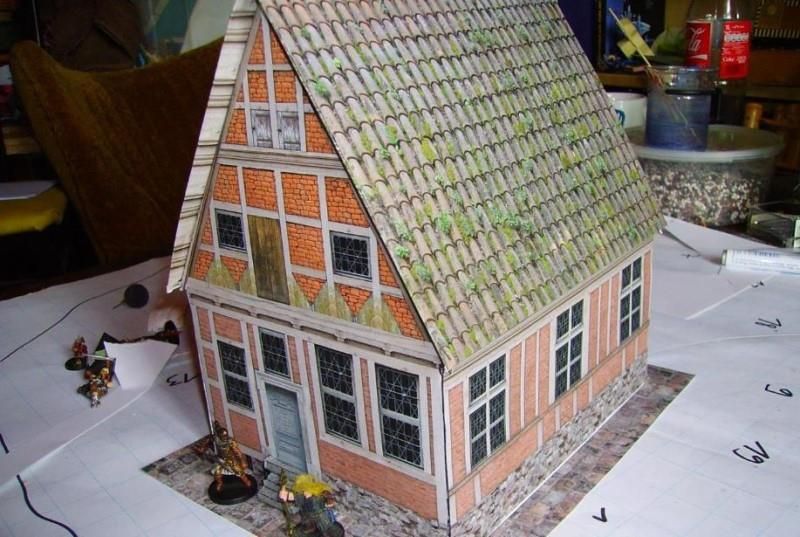 A Cooperage
is where works the
"cooper"
, who
makes wooden staved vessels of a conical form
, of
greater length than breadth, bound together with hoops and possessing flat ends or heads.
This
Cooperage Warehouse paper model
was based in a
real one that was located in Lauenburg, Germany.
This
beautiful paper model
was created by
German designer Rorschach Hamster.
Perfect for RPG, Wargames and Medieval Dioramas.
Este modelo de papel de um Armazém de Tanoaria
foi criado pelo
designer alemão Rorschach Hamster.
A
tanoaria é uma arte ancestral
que se desenvolvia junto das
zonas ribeirinhas
, intimamente ligadas às
regiões de produção vinícola,
consistindo no
fabrico de vasilhames em madeira para o armazenamento do vinho
. Assim, com as
madeiras de carvalho e eucalipto
,
fabricavam-se pipas, tonéis, canecos, celhas e outros artefatos
, especialmente para a colheita,
tratamento e transporte de vinho
. Este modelo foi baseado em uma
tanoaria real
localizada em
Lauenburg, na Alemanha
.
Perfeito para RPG, Wargames e Dioramas Medievais.
Link:
Lauenburg.Cooperage.Warehouse.Paper.Model.by.Rorschach.Hamster
More European Architecture and Buildings Paper Models related posts:
Roman Castrum In Romania - by Papermau - Download Now!
WW2 European Buildings - by Perry`s Heroes - Casa Européias Da Segunda Grande Guerra
German House Paper Model - by Sohland An Der Spree
European Style House - by 3D Stadtmodell - Casa Européia