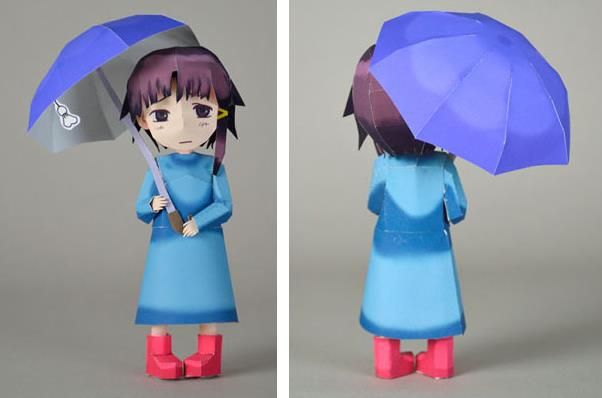 By Japanese designer Kataho, here is the paper doll version of Lain Iwakura
, character from
Serial Experiments Lain
, an
anime released in 1988
.
Serial Experiments Lain
is an
avant-garde anime
influenced by themes such as
reality, identity, and communication.
The series focuses on
Lain Iwakura
, an
adolescent girl
living in suburban Japan
, and her introduction to the
Wired
, a
global communications network
similar to the
Internet.
- read more at
Serial.Experiments.Lain.at.Wikipedia
-
To view and print this model you will need Pepakura Viewer Free Version (link at the end of this post).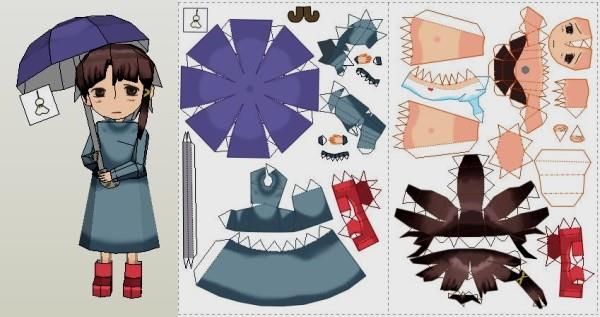 Do designer jaonês Kataho
, eis aqui a
versão em papel
de
Lain Iwakura
, personagem do anime
Serial Experiments Lain
, de
1988
. Considerado um
anime de vanguarda
, influenciado por temas filosóficos como
realidade, identidade, comunicação e deus
.
A série se foca em
Lain Iwakura
, uma
adolescente japonesa moradora dos subúrbios
, e sua introdução à
Wired,
uma
rede de comunicação global similar à internet.
- leia mais em
Serial.Experiments.Lain.na.Wikipedia
-
Para visualizar e imprimir este modelo você precisará do Pepakura Viewer Versão Gratuíta (link no final deste post).
Link to download the model:
Serial.Experiments.Lain.Lain.Iwakura.Paper.Doll.by.Kataho
Link to Pepakura Viewer Free Version:
Pepakura.Viewer.Free.Version.Official.Page
More Anime and Mangá Paper Models related posts:
Ami Kawashima Paper Doll In Anime Style - by JP Papercraft
My Neighbor Totoro - Studio Glibli Characters Paper Toys - by Bunzodo
Inuyasha - Sesshomaru Paper Model - by Ace Crafts
Sayaka Paper Doll In Anime Style - by Seisaku Diary