Celebrating the 25th Anniversary of the Fall of the Berlin Wall
, here is a
paper model originally published
in
February 24, 2012,
here at the blog.
A very beautiful and different
model of a
section of the Berlin Wall
, as we see in
museums and parks around the world
, as a reminder of the recent past;
proof of which is capable human stupidity.
One idea is to edit the template and put a
graffiti
of your choice. This cool model was made by
Bryan Tan / Rocketman Tan
and in his page at
DeviantArt
you will find a
new model every week.
Celebrando os 25 anos da queda do Muro de Berlim, eis aqui um modelo originalmente postado em 24 de Fevereiro de 2012, aqui no blog. Um modelo bonito e diferente
de uma
seção do Muro De Berlim
, como os que vemos em
museus e parques ao redor do mundo
, como uma lembrança de um passado recente e
uma prova do que é capaz a estupidez humana.
Uma idéia é editar a textura do modelo colocando um
grafitti
de sua preferência. este modelo foi criado por
Bryan Tan / Rocketman Tan
e em sua página no
DeviantArt
,
você encontra um novo modelo toda semana.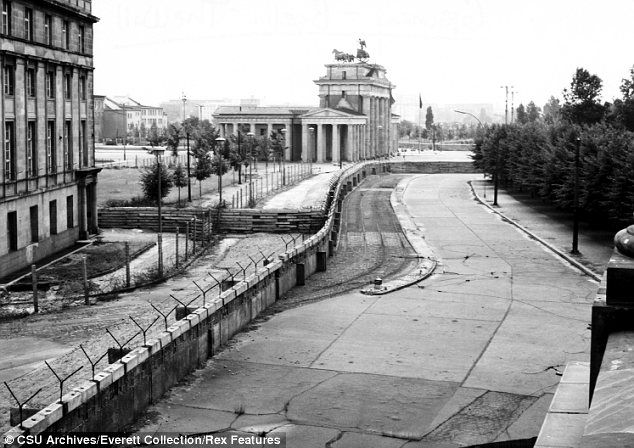 The Real Thing, In The Firsts Years
The Berlin Wall
(
German: Berliner Mauer
) was a
barrier
constructed by the
German Democratic Republic
(
GDR, East Germany
) starting on
13 August 1961
, that completely cut off
West Berlin from surrounding East Germany and from East Berlin
. The barrier included
guard towers
placed along large
concrete walls
, which circumscribed a wide area (later known as the
"death strip"
) that contained
anti-vehicle trenches
,
"fakir beds"
and other defenses. The
Eastern Bloc
claimed that the
wall
was erected to
protect its population from fascist elements
conspiring to prevent the
"will of the people"
in building a socialist state in
East Germany
. In practice, the Wall served to prevent the massive emigration and defection that marked
Germany and the communist Eastern Bloc
during the
post-World War II period
. -
read more at Wikipedia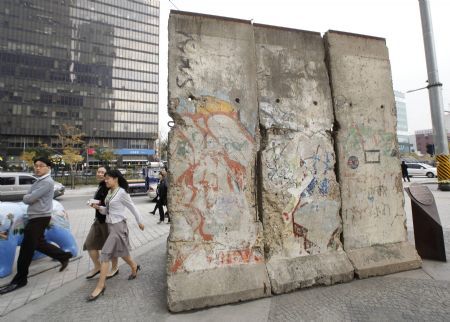 Berlin Wall Sections In Seoul Plaza, South Korea
O Muro de Berlim
(em
alemão Berliner Mauer
) era uma
barreira física
, construída pela
República Democrática Alemã
(
Alemanha Oriental
) durante a
Guerra Fria
, que circundava toda a
Berlim Ocidental, separando-a da Alemanha Oriental, incluindo Berlim Oriental.
Este muro, além de
dividir a cidade de Berlim ao meio
, simbolizava a divisão do mundo em dois blocos ou partes:
República Federal da Alemanha (RFA)
, que era constituído pelos países capitalistas encabeçados pelos
Estados Unidos
; e
República Democrática Alemã (RDA)
, constituído pelos
países socialistas simpatizantes do regime soviético
. Construído na madrugada de
13 de Agosto de 1961
, dele faziam parte
66,5 km de gradeamento metálico, 302 torres de observação, 127 redes metálicas electrificadas com alarme e 255 pistas de corrida para ferozes cães de guarda.
Este muro provocou a
morte a 80 pessoas identificadas, 112 ficaram feridas e milhares aprisionadas nas diversas tentativas de o atravessar.
A distinta e muito mais longa fronteira interna
alemã
demarcava a fronteira entre a
Alemanha Oriental e a Alemanha Ocidental.
Ambas as fronteiras passaram a simbolizar a chamada
"cortina de ferro"
entre a
Europa Ocidental e o Bloco de Leste.
Antes da construção do
Muro
,
3,5 milhões de alemães orientais
tinham evitado as restrições de emigração d
o Leste
e fugiram para a
Alemanha Ocidental
, muitos ao longo da fronteira entre
Berlim Oriental e Ocidental
Model Assembled and Photo by Bryan Tan
With A Real Piece Of The Wall
Durante sua existência, entre 1961 e 1989
, o
Muro
quase parou todos os movimentos de emigração e
separou a Alemanha Oriental de Berlim Ocidental
por mais de um quarto de século.
Durante uma onda revolucionária que varreu o Bloco de Leste
, o governo da
Alemanha Oriental
anunciou em
9 de novembro de 1989
, após várias semanas de distúrbios civis, que todos os cidadãos da
RDA
poderiam visitar a
Alemanha Ocidental e Berlim Ocidental
.
Multidões de alemães orientais subiram e atravessaram o Muro
, juntando-se aos
alemães ocidentais
do outro lado, em uma atmosfera de celebração. Ao longo das semanas seguintes, partes do
Muro
foram destruídas por um público eufórico e por caçadores de souvenirs, mais tarde, equipamentos industriais foram usados para remover quase todo da estrutura.
A queda do Muro de Berlim,
abriu o caminho para a
reunificação alemã,
que foi
formalmente celebrada em 3 de outubro de 1990
. Muitos apontam este momento também como o
fim da Guerra Fria
. O governo de
Berlim
incentiva a visita do muro derrubado, tendo preparado a reconstrução de trechos do muro. Além da reconstrução de alguns trechos está marcado no chão o percurso que o muro fazia quando estava erguido. -
Wikipedia
Direct link to the model: Berlin.Wall.Section.Paper.Model.by.Bryan.Tan.Rocketman.Tan
Link To Bryan Tan/Rocketman Tan Main Page:
Bryan.Tan.Rocketman.Deviant.Art.Main.Page
More Historic German Paper Models related posts:
German Human Torpedo Neger Paper Model - by Renova Model - Mini-Submarino Torpedeiro
Reichstag Building in Berlin - by Bastelbogen Online - Parlamento Alemão
The Pergamon Museum in Berlin - by 2nd Page - Museu Alemão
WW2 Bunker 1/87 scale - by Cougarman - via Kartonbau.De Forum