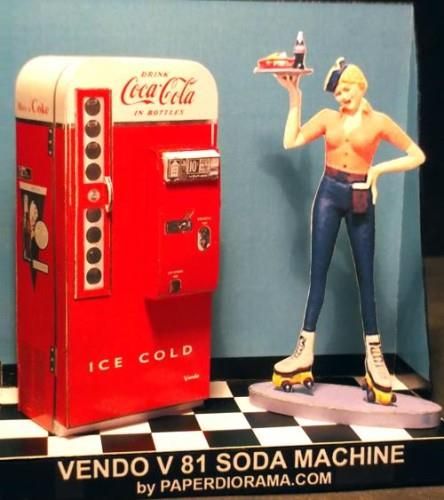 The Coca-Cola machine VENDO 81
was introduced in
1950
and was produced until
mid-1960
when it was replaced by the new
"square corner"
machines. It could
store up to 81 bottles of Coke
. Due to its
classic design,
the
VENDO 81 became one of the most desirable machines of soda among collectors of Coca-Cola memorabilia in the world
. Created by staff from the
Italian site Paper Diorama
, this model is in
1/20 scale.

A máquina de Coca-Cola VENDO 81
foi introduzida na década de
1950
e foi produzida até
meados de 1960
, quando foi substituído pelas novas máquinas
"de canto quadrado"
. Ela armazenava
até 81 garrafas de refrigerante
. Devido ao seu
design clássico
, a
VENDO 81 tornou-se uma das mais desejadas máquinas de refrigerante entre os colecionadores de memorabília da Coca-Cola em todo o mundo.
Criada pelo pessoal do
site italiano Paper Diorama
, este modelo está na
escala 1/20.
Link:
1950`s.Coca-Cola.Machine.Paper.Model.by.Paper.Diorama
More Coca-Cola themed Paper Models related posts:
Create Your Very Own Polar Bears Paper Models - by Coca-Cola
Coca-Cola Van Paper Model - by Papermau - Download Now!
Coca-Cola Vending Machine Paper Model - by Ryuichi Ikeda
Pepsi-Cola Van Paper Model - by Papermau - Download Now!