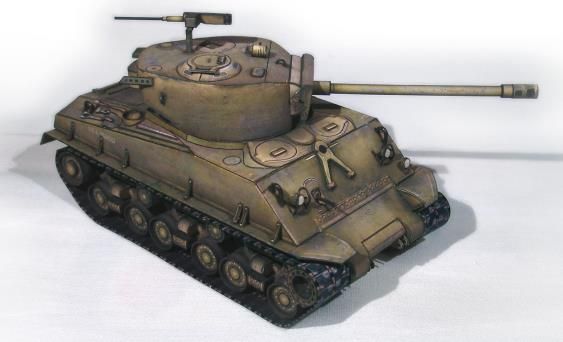 The Real Thing in Action - M4 Version
By Russian website World of Tanks
, this is the
WW2`s Sherman Tank paper model
, in
1/50 scale.
This is the M4A3E8 version
. -
The M4 Sherman
, officially the
Medium Tank, M4
, was the
primary battle tank used by the United States and the other Western Allies in World War II
, and proved to be a
reliable and highly mobile workhorse
, despite being
outmatched by heavier German tanks late in the war
.
Thousands
were
distributed to the Allies, including the British Commonwealth and the Soviet Union
, in the lend-lease program.
The M4 was the second most produced tank of the World War II era
, after the
Soviet T-34
, and its role in its
parent nation's victory was comparable to that of the T-34
. The tank
took its name
from the
American Civil War General William Tecumseh Sherman.
- read more at
Sherman.M4.at.Wikipedia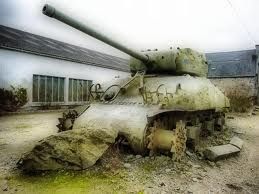 A Destroyed One
Do site russo World of Tanks
, este é o
Tanque M4 Sherman
, da
Segunda Grande Guerra
, na
escala 1/50.
Esta é a versão M4A3E8
. - O
Tanque médio M4 Sherman
foi o
principal tanque desenhado e construído pelos Estados Unidos da América para as forças aliadas durante a Segunda Guerra Mundial,
tendo sido
utilizado neste conflito tanto pelos Estados Unidos quanto exportado pelo programa de arrendamento de guerra estadiuniense para ampla utilização em várias frentes de guerra por seus aliados, soviéticos, britânicos, chineses, franceses e brasileiros.
Foram
construídos mais de 50.000 tanques
acrescidos de
centenas de veiculos derivados
, denominadas com
número de modelo diferente e capacidades concretas
, sendo
fabricados 2.000 tanques por mês,
construidos em
onze fábricas diferentes nos Estados Unidos.
- leia mais em
Sherman.M4.na.Wikipedia
Link:
WW2`s.M4A3E8.Sherman.Tank.Paper.Model.by.World.Of.Tanks
More Paper Models of Military Vehicles related posts:
1899`s Armored Steam Tractor Paper Model - by JB Models - Trator Blindado
1932`s Soviet Amphibian Tank T-33 - by Paul - via Le Forum En Papier
Tatra 111 Afrika Korps Paper Model - by DTS Modelling
U.S.Army Jeep Paper Model In 1/100 Scale - by Rawen - Jipe Militar