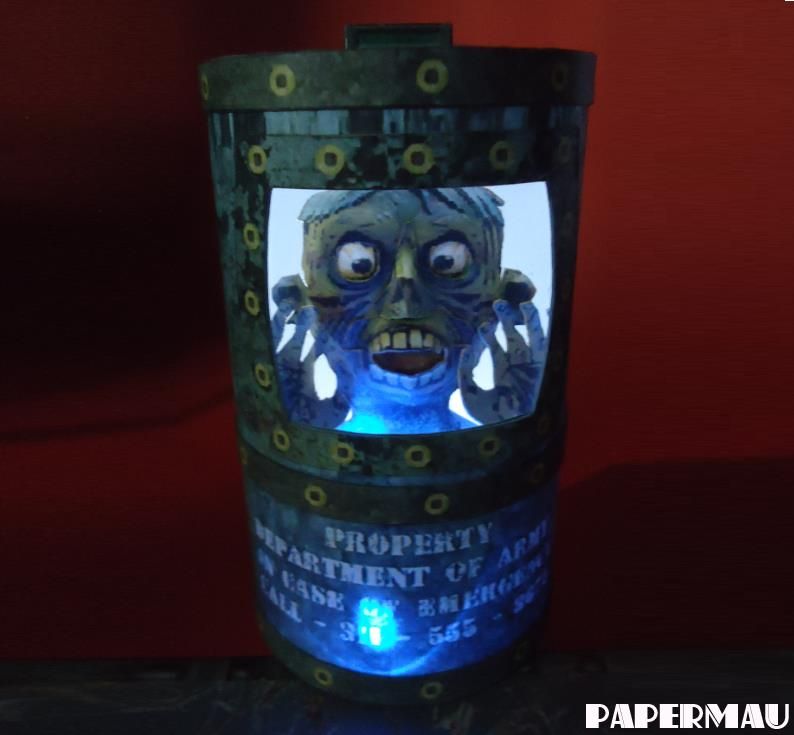 To close this Halloween night with a golden key
, here's the
Zombie in a Barrel
, a paper model
originally published here at the blog on April, 19, 2012
. I added
two LED lamps (white and blue
) to the model and took
some pictures
. The result you can see in the
pictures of this post
. It seems that
the zombie is steeped in some kind of toxic fluorescent jelly
. If you liked the
Zombie In A Barrel
and want to
build your own
, the
link to
download it
is
right below, at the end of this post
.
Happy Halloween!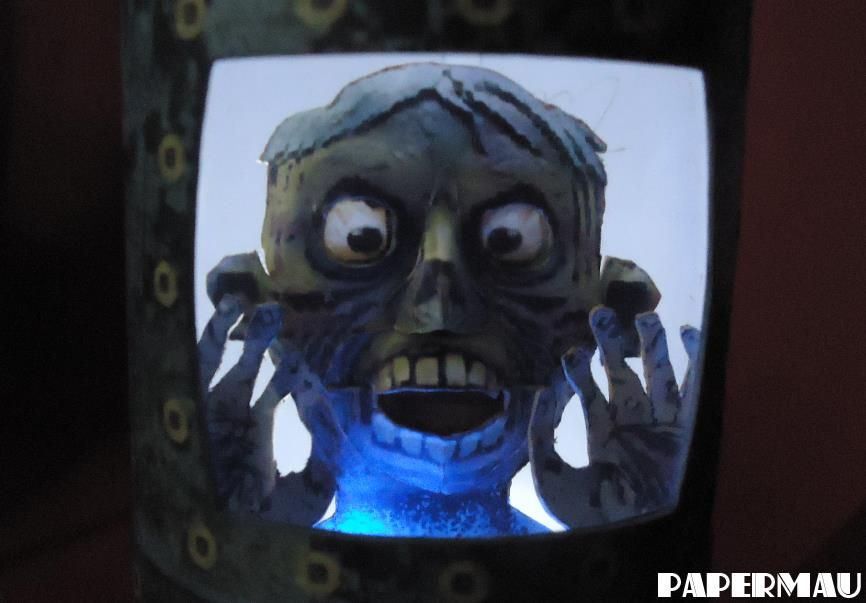 Para fechar a noite de Dia das Bruxas com chave de ouro
, eis aqui o
Zumbi no Barril
, um modelo de papel
originalmente publicado aqui no blog no dia 19 de Abril de 2012
. Eu adicionei
duas lâmpadas de LED ao modelo (uma branca e uma azul)
e tirei algumas
fotos
. O resultado você pode ver
nas duas imagens que ilustram este post
. Parece que
o zumbi está mergulhado em algum tipo de geléia tóxica fluorescente
. Se você gostou do
Zumbi no Barril
e quer montar
um só prá você
, o
link para baixar o modelo está logo abaixo
, no
final deste post
.
Feliz Dia das Bruxas!
Download:
Zombie In A Barrel Paper Model - by Papermau - Download Now!
About Toys In The Attic by Papermau:
Toys in the Attic
is the
third album by American rock band Aerosmith
, released in
April 1975
. Is also a name of a
1963`s drama movie
with
Dean Martin
and
Geraldine Page
. Now,
because this is a really nice name
, this
will be
the name of a
new session of Papermau`s blog
. In this
session
I will
share old original and exclusive paper models
posted
more than a year
here in the
blog
. It's a
way of not letting these models get lost
among
over 5.500 posts in three years of existence of the blog
.
Toys in the Attic
(
Brinquedos no Sotão
) é o nome do
terceiro album da banda norte-americana de rock Aerosmith
, lançado em
1975
. É também o nome de um
drama para o cinema de 1963
chamado aqui no Brasil de
Na Voragem das Paixões
, que contava no elenco com
Dean Martin (o parceiro do Rat Pack e de Jerry Lewis) e Geraldine Page.
Agora, porque eu acho esse um
título muito legal
,
Toys in the Attic
será o nome de uma
nova sessão do blog Papermau
. Nesta sessão eu
publicarei antigos modelos de papel originais e exclusivos postados há um ano ou mais
. Esta é a
maneira que encontrei para que estes modelos não fiquem perdidos e esquecidos
entre
mais de 5.500 postagens
feitas em
três anos de existência do blog.
More Toys In The Attic related posts:
Toys In The Attic - by Papermau - Desktop Architecture - Series 04 Brazilian Colonial Churches
Toys In The Attic - by Papermau - Chevrolet Chevelle 1970 - Dark Version
Toys In The Attic - by Papermau - Brick Street Diorama
Toys In The Attic - by Papermau - Volkswagen Transporter Van Brazilian Kombi