From Star Trek universe
, this is the
Work Bee spaceship
in
1/32 scale
, created by
German designer
Martin Sänge
r, from
Paper Aviation
website.
The Work Bee
is a
small craft operated by Federation Starfleet
. A
Work Bee
is generally
unarmed and used for construction and repair of starships
and
space stations
.
Deep Space 9
has a complement of
Work Bees
and some can be seen inside
Earth Space Dock.
-
Star Trek Wiki
Do universo de Star Trek
, essa é a nave
Work Bee
na
escala 1/32,
criada pelo
designer alemão
Martin Sänge
r, do site
Paper Aviation
.
Uma Work Bee é uma pequena nave operada pela Federação da Frota Estelar.
A
Work Bee
geralmente
não possui armamento
e é usada na
construção e reparação de naves e estações espaciais
. A
Deep Space 9
tem uma frota de
Wok Bees
e algumas podem ser vistas dentro da
Earth Space Dock.
-
Star Trek Wiki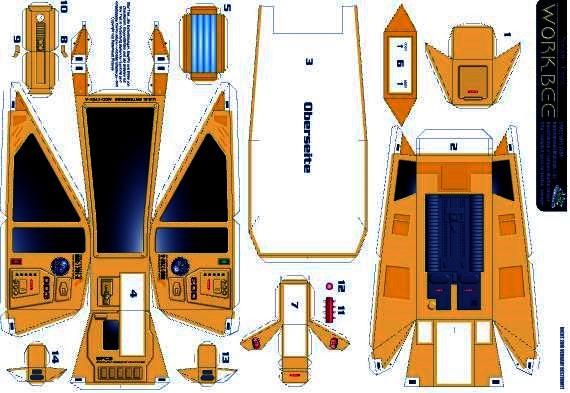 Link:
Star.Trek.Work.Bee.Paper.Model.In.1/32.Scale.by.Paper.Aviation
More Sci-Fi Paper Models related posts:
Futuristic Cars Paper Models - by Jlhcorp - Carros Futuristas
MekTek Black Knight Papercraft - by Monkeyrum - via Deviant Art
Sci-Fi Background - Diorama - by Tamashii.Jp
Space Station V From 2010 Movie - by Paper Aviation - Estação Espacial